Reimagining Renovations: How Fire-rated Glazing Can Transform Existing Buildings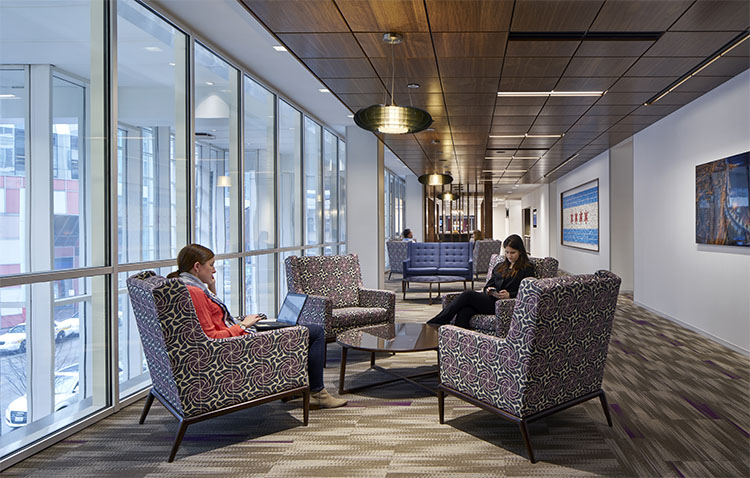 Project: Grant Thornton Tower
Location: Chicago, IL
Architect: Stantec Architecture
Product: Fireframes® Curtainwall Series with Pilkington Pyrostop® fire-rated glass
Photography: Chris Barrett
Many of today's existing structures rely on traditional fire-rated building materials, like concrete and gypsum, to provide fire protection. While effective, their dense, opaque form restricts critical light transfer and visibility, leading to dark, poorly lit spaces.
Since access to daylight and views are critical to occupant wellbeing, there is often a desire to open up these closed-off areas during retrofits and refurbishments. Far too often, they prove challenging to reinvent within code constraints. This was the case when Grant Thornton, LLP, the world's sixth largest accounting firm, relocated its U.S. headquarters to the former Chicago Title & Trust Center in 2015.
As the firm prepared to move into the now-named Grant Thornton Tower, they found "its lease was saddled with a very dark, almost unusable area on their most important floor," said Ken Novak, NCIDQ, Associate, Stantec Architecture.
The second floor, which was designated as a gathering place and the "town square" for the company, had no access to daylight. It was essentially a long, dark corridor. The firm desired to open up a gypsum covered, fire-resistive wall to allow ample light into the space, as well as provide visibility to the lobby below and out to the Thompson Center and City Hall across the street. As Novak explained, introducing daylight was "problematic due to the codes regarding separation of the lobby from the tenant space." Many types of fire-rated materials are available that can meet this life safety requirement, but relatively few that allow light transfer.
As a result, the architects had all but "given up on the idea of daylight flooding the space," until they found their solution with fire-rated glazing.
The clear solution
Like its opaque fire-rated counterparts, fire-rated glass is able to satisfy stringent fire and life-safety criteria. The differentiating factor is that it can do so without restricting daylight and visibility. Most notably, if applications call for fire resistance, as was necessary in the Grant Thornton Tower, products are available that can serve as a barrier to heat and pass the test standards for solid walls. When it is paired with compatible fire-resistive frames and installed as part of a tested and approved system, buildings teams can use it to create large expanses of glass in areas that would otherwise require opaque fire-rated materials to meet code.
In the case of Grant Thornton, the project team replaced an 84-foot long drywall partition with approximately 821 square feet of two-hour fire-resistive curtain wall frames and glass. By changing an opaque wall into a clear one, the result is a welcoming, light-filled space that is "very popular and one of the showstoppers in the building," noted Novak.
While the Grant Thornton Tower refurbishment serves as a powerful illustration of how design professionals can use fire-rated glazing to transform interiors in existing buildings into attractive, light-filled and code-compliant spaces, it is just one example. Today, there are numerous ways design professionals can use advanced fire-rated glazing to give buildings a fire-rated facelift.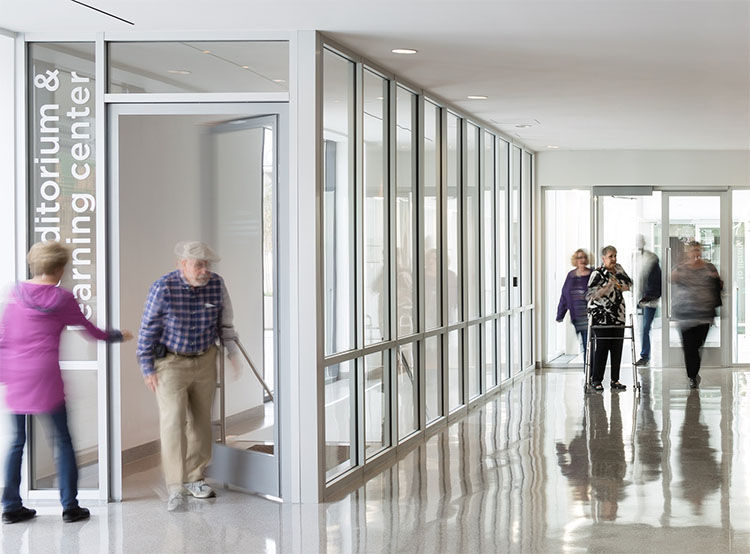 Project: Tulsa Central Library
Location: Tulsa, OK
Architect: Meyer, Sherer & Rockcastle
Product: Fireframes® Aluminum Series with Pilkington Pyrostop® fire-rated glass and Fireframes Designer Series doors

Provide transparent compartmentation
Compartmentation, or the sub-division of buildings into smaller compartments via fire-rated materials, is a critical safeguard since it helps slow or stop the spread of fire. While functional and, in some instances code mandated, this defense mechanism is at odds with the desire to turn existing, light-restricted areas into lofty, open spaces. One of fire-rated glass' primary advantages is this ability to resolve this design challenge by providing transparent compartmentation.
For instance, during a retrofit, building teams can use a fire-rated glass curtain wall to provide the feel of a collaborative, light-filled space, while helping reduce the area's overall volume. They can also place fire-rated glass systems directly in line with non-fire-rated glazing systems, incorporate fire-rated glass panes or curtain walls in corridors or main gathering areas, or use them to surround previously hard-to illuminate spaces such as stairwells. This was the approach MSR took during the renovation of the award-winning Tulsa City- County Library in Tulsa, Oklahoma.
To turn the aging 1965 building into a library fit for the 21st century, one of MSR's key design goals was to create an open layout that maintains visual connectivity and allows ample natural light to pass through interior spaces. This was especially crucial in the areas surrounding the grand staircase and the main floor, garden-level entry, as it would help ensure a clear circulation path. As the firm discovered, it was challenging to meet these goals in areas where it was necessary to retain fire separations and meet stringent fire rating standards.
To open up the building and meet fire and life-safety criteria, the design team specified a narrow, fire-rated framing system with large expanses of fire-rated glass. It surrounds the grand staircase and the stair entrance to the public areas located on the lower level, providing a barrier to radiant and conductive heat transfer. Meanwhile, its slender frames and glazed areas maintain visual connectivity and allow plenty of natural light to pass between interior areas.
Improve daylight transfer and visibility between building levels
In existing buildings where perimeter glazing is limited or it is necessary to draw daylight deep inside the core, an effective way to increase admissible daylight and visibility is by incorporating atriums and glass floors. In some instances, a potential setback is the need for a code-approved fire barrier between floors. To provide the necessary fire resistance and meet design goals, one increasingly popular solution is a fire-rated glass floor system. It can facilitate views and increase admissible daylight while supporting structural loads and blocking flames, smoke and heat.
While there are myriad ways to use fire-rated glass floor systems to expand glazing in existing buildings, one trend is to align them beneath overhead light-admitting devices. This can allow natural light to pass down into rooms incapable of otherwise receiving sunlight from above while still defending against a fire's spread. Similarly, large glass floors can serve as atriums or light portals for stairwells and belowground spaces. This was the case in Northwestern University's Engineering Life Sciences Building infill, where Flad Architects used a two-hour, fire-resistive-rated glass floor system as a large central atrium. The system satisfies the atrium's two-hour fire separation code requirement without restricting critical light transfer.
"We needed a fire barrier in the atrium, but we didn't want researchers and students to be in the dark," explained Matt Garrett, project architect at Flad Architects. "The fire-rated glass floor system allowed us to compartmentalize a very large volume of space without blocking off access to daylight."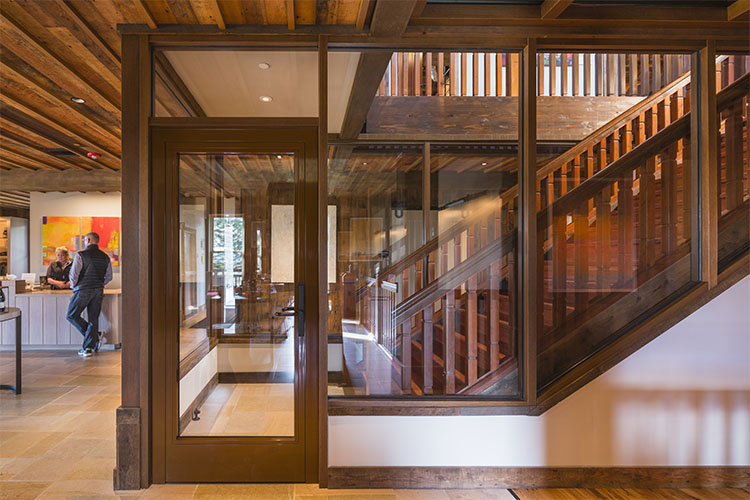 Project: La Crema Estate at Saralee's Vineyard
Location: Windsor, CA
Architect: Brayton Hughes Design Studios
Product: Fireframes TimberLine™ Series with Pilkington Pyrostop® fire-rated glass and Fireframes® Heat Barrier Series door

Break down design barriers
While good daylight and visibility factor prominently into the outcome of many retrofits and refurbishments, so too do aesthetics. Whether it is desirable to preserve historic character or create a more modern interior, design teams do not want to be cornered into a particular look for the sake of fire and life safety.
Thankfully, due to recent manufacturing advances, it is possible for fire-rated glass and framing systems to better reflect a design team's desired aesthetic. As discussed in previous articles, fire-rated steel frames are now available with a slender profile and sleek aesthetic to more closely match the look of non-rated framing systems. Fire-rated framing systems are also available with the appearance of structural silicone glazing, along with more sophisticated butt-glazed fire-rated glazing systems.
Building teams can also select from fire-rated frames in a wide array of custom colors and finishes to achieve nearly any look. There are even authentic hardwood, fire-rated framing options. This design freedom was key when Brayton Hughes Design Studios began planning the remodel of the La Crema Estate at Saralee's Vineyard in Windsor, California.
To meet current fire-resistance requirements, the designers needed to construct a barrier around the tasting room's historic stairwell that was capable of defending against the spread of flames, smoke and heat transfer. It also needed to create and maintain the rich, allure of wood, complementing the extensive wood framing and hardwood flooring used throughout the surrounding space. The designers found their solution with the Fireframes TimberLine™ Series from Technical Glass Products (TGP).
The innovative framing system pairs a high-strength steel sub-frame with a real-wood veneered metal cover cap. The fire-rated frames are then combined with Pilkington Pyrostop® fire-rated glass. The result is a fire-rated framing system that captures the warmth of wood, and enables extensive fire-rated glazed walls with clean sightlines.
Conclusion
According to Nick St. Denis, director of research at Key Media & Research, there are over 5.6 million existing commercial buildings in the U.S. For far too long, design professionals have been forced to temper their daylighting and design goals for the sake of fire and life safety when renovating these buildings. Today, this compromise is no longer necessary. With appropriate specification, design professionals can use fire-rated glass systems to turn unusable, out-of-date areas in facilities into attractive, light-filled and safe spaces.
As originally published in the September 2018 edition of Your Guide to Architectural Interiors with Fire-Rated Glass, a supplement of Architectural Record, sponsored by TGP. View the full supplement here.