Fire-rated glass labels include a multitude of information, including the product name, basic characteristics (e.g., tempered, laminated, etc.), compliance with impact safety requirements, and whether it is listed by an independent testing agency, such as Underwriters Laboratories. Labels permanently affixed to fire-rated glass also indicate which fire tests it has passed, and which applications it is suited for. Starting with the 2012 IBC, the code incorporates amendments to the fire-rated glass marking system to further simplify the number of marks from the previous system. These were updated in the 2018 edition and can be found in 2021 IBC Table 716.1(1).
Use this interactive tool to find the markings on the labels and see their definitions.
IBC Label Sample 1

IBC Label Sample 2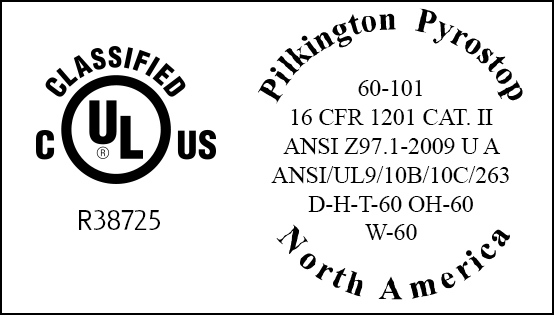 ClickTap the appropriate Marking below to see it highlighted on the label sample.
Description of Location
Walls, openings (windows, sidelites, transoms) or doors
Hose Stream Test
Required for 45 minutes and above
Temperature Rise
Minutes
* For SI; °C = [(°F) -32]/1.8
Source: 2021 IBC Table 716.1(1), Marking Fire-Rated Assemblies