TGP's 90-minute Fireframes® Designer Series full-lite fire-rated double doors are used in conjunction with Fireframes Aluminum Series frames to create a close visual match with nearby non-rated aluminum framing systems. Crisp corner conditions support clear circulation paths and transparency to the entry.
EXPLORE THE ADVANTAGES OF FIRE-RATED DOOR DESIGN
Fire-rated doors aren't what they used to be. Thanks to manufacturing advances, today's fire-rated glass door assemblies have evolved to become design assets that elevate a building's aesthetic. Our modern assemblies are proof that fire-rated glass doors can support beautiful, code-driven design and meet rigorous fire- and life-safety criteria.
Sleek and strong, our Fireframes® fire-rated glass doors feature narrow steel profiles, full-lite glass and optional finished powder coatings.
Doors come prehung, prefinished with all hardware and easily integrate with fire-rated storefront and curtain wall systems.
Explore this interactive tool and helpful resources below to discover their full transformative potential.
TGP Fire-Rated Doors
Technical Glass Products' UL-classified and labeled full-lite fire-rated glass door assemblies are available with fire ratings up to 90 minutes. With the narrowest steel profiles available with a fire rating, TGP's fire-rated doors are designed to complement adjacent non-fire-rated aluminum doors.
Fireframes Designer Series with monolithic glass and Fireframes Designer Series with Insulated Glass Units have both earned a Living Building Challenge Red List Approved Declare Label. These Declare labels can be used for building projects seeking to achieve either the Living Building Challenge or LEED green building rating systems.
Case Studies
Read how design professionals are using Fireframes® fire-rated glass doors from TGP to open new possibilities for aesthetics and code compliance.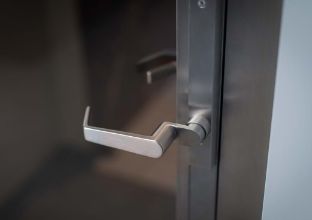 Freedom Mortgage
Greenwood Village, CO
New fire-rated doors complement the building's modern aesthetic and welcome natural light into the office suite's interior.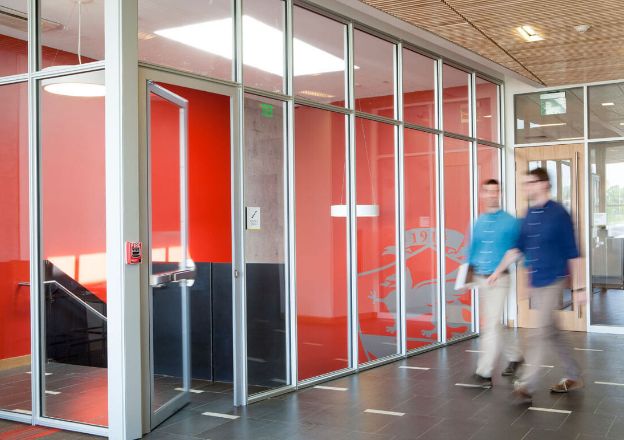 Johnson & Wales
Providence, RI
A fire-rated glazing and door system satisfies building codes, while also supporting transparency to the exit stair enclosure.
Gallery
View photos of Fireframes fire-rated glass doors using the links below. Or browse our online gallery where you can filter by Fireframes Designer Series Doors or Fireframes Heat Barrier Series Doors.
Trinity Baptist Church
To mirror the church's non-rated architectural features, fire-resistive-rated frames were custom roll-formed, and powder coated.
Tulsa Central Library
Fire-rated system surrounds stairwells with a barrier to radiant and conductive heat transfer, while allowing for the desired aesthetic.
Lincoln University, Grim Hall
Fire-rated glazing defends against fire and provides impact resistance for high traffic areas, without restricting visibility and light transfer.
See Our Fire-Rated Doors in Action
Articles
3 Do's & Don'ts: Fire-Rated Glass Door Specification Checklist
Since incorrect use of fire-rated glazing materials can cause more damage than good, these fire-rated glass door tips are designed to help guide proper selection.