Fire-rated Door Solutions
Fire-rated doors provide around-the-clock protection to help ensure people can safely evacuate a building in the event of a fire. When they're not called upon to limit the spread of fire and provide safe egress, they serve as a regular door pathway, making good visibility crucial. TGP's line of commercial fire-rated glass doors check both boxes, and more.
Our UL-classified and labeled fire-rated glass door assemblies are available with fire ratings up to 90 minutes. The doors feature narrow profiles and are available with glass sizes surpassing traditional systems to preserve sightlines and encourage smooth wayfinding. And, since TGP's fire doors can be glazed with fire-resistive glass to comply with stringent temperature-rise criteria, it's possible to bring exceptional clarity and visibility to even the most demanding applications. Open the door to new possibilities with our fire-rated glass door products.
Fireframes Designer Series with monolithic glass and Fireframes Designer Series with Insulated Glass Units have both earned a Living Building Challenge Red List Approved Declare Label. These Declare labels can be used for building projects seeking to achieve either the Living Building Challenge or LEED green building rating systems.
---
Products
---
Resources
Case Studies
Articles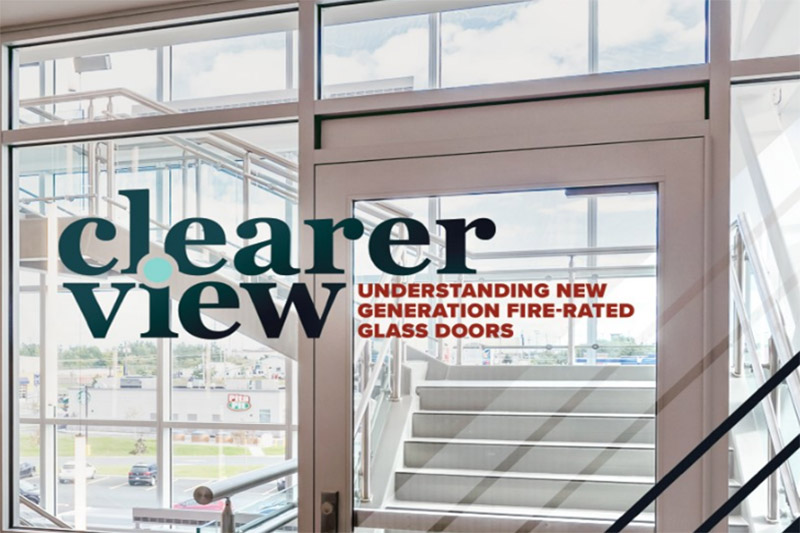 Clearer

View
Understanding New Generation Fire-Rated Glass Doors
Fire-rated glass doors were once easy to identify. Learn how they have evolved into high-performing, design-forward assemblies, fire-rated glass door basics, specification tips and more in TGP's exclusive supplement in Door Security & Safety.
Read Article
For more information on how to use TGP's products on your next project, contact your local territory manager or contact us at tgp.sales@allegion.com.