5 Ways to Design Fire-Rated Glass Doors in Style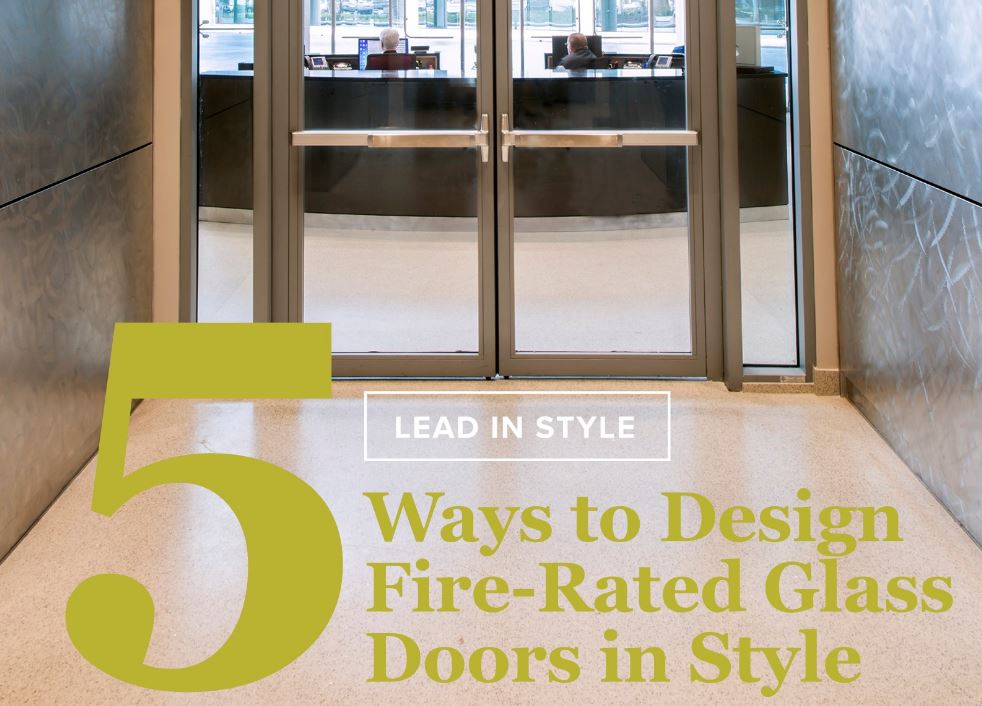 Safety and visibility. For years, these two words summed up the purpose of fire-rated glass in doors. Thanks to manufacturing advances, they only hint at its capabilities. From bright, open areas of egress to entrances that seamlessly integrate with non-rated materials, building teams can use today's fire-rated glazing materials to push the limits of what is possible in doors with strict fire and life safety criteria. To fully reap the benefits of these advanced offerings, consider the following tips when specifying fire-rated glass door assemblies.
1. Prioritize clarity
Wireless fire-rated glass was once inconceivable. Now, not only do building industry professionals have access to clear fire-rated glazing, they can also select from a suite of products with a nearly distortion free viewing surface. For example, fire-protective glazing products, such as fire-rated glass ceramic, can be ground and polished on both sides. Such glass has a smooth surface finish, high visible light transmission and low reflection, making it ideal for doors where exceptional clarity is desired.
Fire-resistive transparent wall panels, which are often used in temperature-rise doors, can also meet demanding visual requirements. Their multi-laminate makeup offers nearly the same level of visual clarity as ordinary float glass. They enable large, clear viewing areas in locations subject to strict fire-rated criteria by code.
2. Go big
Codes once limited fire-rated glass to 100-square inch vision lites in doors with strict fire-rated criteria. As the daylighting movement took root and the demand for transparency grew, so too did fire-rated glass sizes. Products are now available in myriad sizes with the ability to meet temperature-rise criteria.
Due to these improvements, if an architect or building owner desires a bright, welcoming entry in an area subject to fire and life safety codes, a full-lite fire-rated glazing solution is almost always available. Products are suitable for a range of applications, from 20-minute fire doors to more sophisticated 90-minute temperature-rise doors. Today, there are numerous ways design teams can use full-lite fire-rated glass doors to promote visibility and daylight transfer in fire-rated areas, including incorporating them in:
expansive storefronts to create open entries;
behind non-rated glazing materials to enhance light transfer;
stairwells to improve wayfinding; and
previously nondescript entries in retrofits.
3. Create a visual match
While traditional hollow-metal steel fire door and frame assemblies can provide the necessary fire protection, their frame profile size and shape may not match neighboring windows and curtain walls. New generation fire-rated frames can help overcome this challenge with their sleek form.
For example, products using inherently heat-resistant framing materials like carbon steel do not typically require thermal barriers within their core to achieve the necessary fire defense. Their thin, extruded profiles and crisp edges make it possible for design teams to closely match the aesthetic and technical aspects of traditional aluminum frames in door applications requiring stringent fire protection.
Taking visual integration one step further, building industry professionals can now select from a wide array of versatile frame cover caps to help match fire-rated frames to surrounding materials. Popular cover caps include those with the authentic look of hardwood, polished or brushed stainless steel, and aluminum. They allow design teams to create a cohesive look throughout interior or exterior spaces without altering the frame's fire and life safety performance.
4. Create fire-rated focal points
While maintaining visual consistency between fire-rated and non-fire-rated elements is a crucial design goal in many buildings, in others it is equally important to differentiate designs. A character-defining entryway, for example, can help set the tone for a building and invite people to come inside.
In assemblies where building teams need to achieve a more custom look, from bold colors to muted hues, there is an ever-expanding range of options from which to select. Fire-rated doors and frames can be custom painted, anodized or powder coated to match project goals. Options range from traditional materials like the silver color of aluminum to vibrant colors like purples and greens, which are popular in schools and libraries.
5. Add a decorative surface treatment
For aesthetic or functional purposes, designs may call for fire-rated glass doors with a decorative surface treatment. One example is healthcare centers, where doors designated to provide fire protection by code may also need to balance light transfer with patient privacy. To meet specific project needs, manufacturers and suppliers now offer fire-rated glass with decorative treatments that will not affect its integrity. For example, fire-rated glass is available that can be lightly sandblasted or etched while still maintaining its fire rating. Fire-rated glass can also be combined with colored, tinted or other decorative glass as part of an insulated glass unit (IGU). This allows for eye-catching and high-performing doorways.
Conclusion
Today's fire-rated glazing materials offer the aesthetic characteristics necessary to support a wide range of design goals in fire-rated door assemblies. To ensure a given assembly satisfies all project needs, consult the manufacturer, supplier or supporting team members early in the design phase.
As originally published in the June 2018 edition of Understanding New Generation Fire-rated Glass Doors, a supplement of Door Security + Safety, sponsored by TGP. View the full supplement here.