TGP Offers Stainless Steel Fire-rated Framing Options
Fireframes® Curtainwall Series and Fireframes® Designer Series Fire-rated Doors and Frames Now Available in Stainless Steel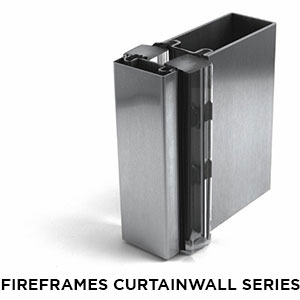 Snoqualmie, Wash., October 9 – Technical Glass Products (TGP) offers its popular Fireframes® Curtainwall Series and Fireframes® Designer Series fire-rated doors and frames in durable stainless steel finish options. Design professionals can now specify the bright, contemporary aesthetic of stainless steel for interior and exterior fire-rated glazing applications requiring up to 120 minutes of fire resistance. www.fireglass.com
TGP's Fireframes Curtainwall Series combines narrow, extruded steel frames with Pilkington Pyrostop® glass to provide a barrier to radiant and conductive heat transfer. It gives architects the option of designing with large expanses of glass in interior and exterior fire-rated glazing applications. Classified and labeled by Underwriters Laboratories, Inc. ® (UL), the Fireframes Curtainwall Series carries up to 120-minute fire ratings as a wall assembly.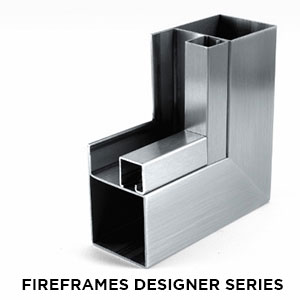 Fireframes Designer Series doors and frames incorporate precision European engineering, providing a sleek, modern alternative to traditional hollow metal frames. The system can incorporate a wide range of fire-rated glazing materials – including the FireLite® family of fire-rated glass – in glass sizes that surpass those supported by traditional systems. The doors and frames are classified and labeled by UL for areas requiring up to 90-minute fire ratings.
For more information on the Fireframes Curtainwall Series and Fireframes Designers Series fire-rated doors and frames, along with TGP's other fire-rated framing and glass products, visit www.fireglass.com or call (800) 426-0279.
About Technical Glass Products
Technical Glass Products (TGP) is your one source for fire-rated glass and framing systems, along with specialty architectural glass products. The company offers AIA-registered continuing education, project consultation, product specifications, CAD drawings, BIM 3D models and rapid-response quoting. For more information about TGP's products and services, call (800) 426-0279, visit www.fireglass.com (fire-rated glass) or www.tgpamerica.com (architectural glass).