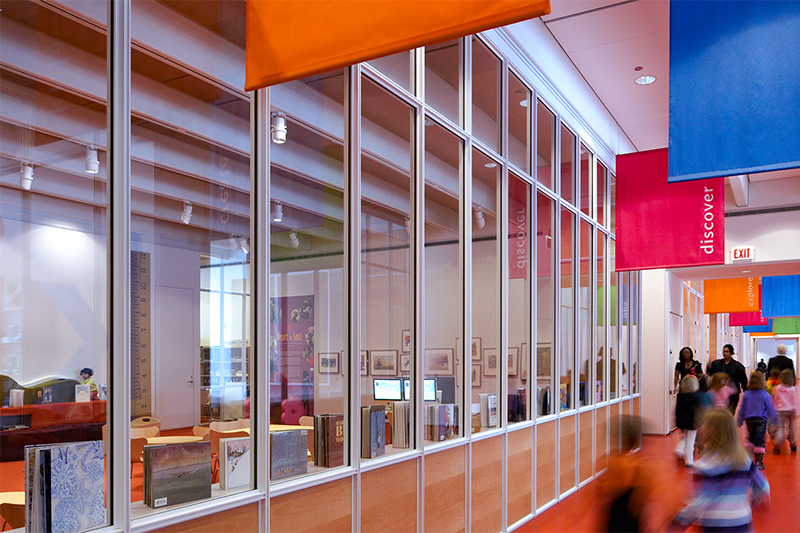 The aesthetic gap between traditional fire-rated and conventional curtain wall systems has long proved challenging for architects and design professionals. In large part, this was due to the design limitations associated with traditional fire-rated frames. While effective in blocking fire, their bulky, unsightly appearance made it impossible to create visual harmony with non-rated framing systems. To help resolve this dilemma, manufacturing advances over the last decade have given rise to fire-rated curtain walls with narrow mullion profiles and large expanses of fire-rated glass that more closely achieve a visual match with surrounding framing systems.
TGP has been at the forefront of this transition to matched systems. Through work with building teams on a diverse set of projects such as New York City' Fulton Center transit hub to the Art Institute of Chicago's Modern Wing, TGP's product development specialists have developed several complementary framing systems, including:
Designers can combine these product lines with one another or with other steel and aluminum assemblies for a cohesive look, and can specify powder-coated frames in virtually any color, custom shapes, cover caps or even wood veneer.
Fire-rated glazing for horizontal fire separations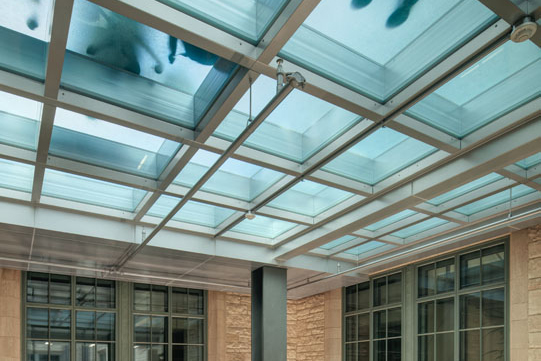 To help draw daylight deep into interior spaces while providing protection against the spread of flames, smoke and heat in horizontal fire separations, manufacturers developed fire-rated glass floor systems. The multi-functional design solution can support demanding loads, act as a light-transmitting device, and defend against flames, smoke, and heat should a fire occur. TGP's Fireframes ClearFloor® System is available with fire-resistance-ratings up to two hours and can support loads of up to 150 psf. TGP offers glass floor color and texturing options to support aesthetic goals while maintaining adequate slip resistance and daylight admission.
Fire-rated glazing with a continuous glass wall aesthetic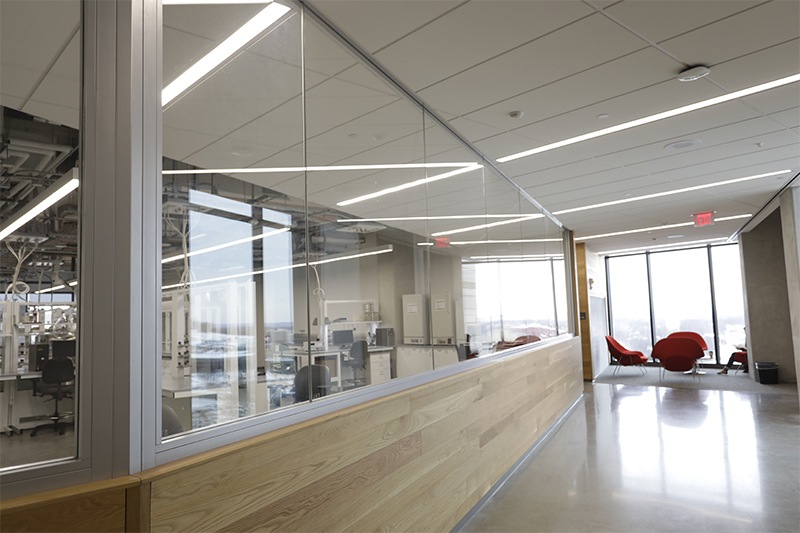 Fire-rated glazing with a seamless surface appearance is the next step in a long evolution of fire-rated glazing with aesthetics comparable to non-rated systems. A recent introduction is TGP's Fireframes SG Curtainwall® Series. The innovative system is designed to achieve the clean sightlines and seamless aesthetic of silicone glazed (SG) curtain walls systems, maximize light penetration and defend against the spread of flames and smoke in fire-rated applications. It consists of fire-resistance-rated glass attached to narrow, steel, fire-rated frames with a toggle retention mechanism to anchor the glazed lites. The assembly is silicone sealed and requires no pressure plates or caps. Once installed, the toggle retention system becomes completely hidden, allowing for a smooth, frame-free exterior surface. On the back side of the system, steel fire-rated frames provide high strength and clean sightlines.
Another notable development is butt-glazed fire-rated glass walls. Comprised of fire-rated glass wall panels with butt-glazed joints in a heat-resistive perimeter frame, TGP's Fireframes ClearView® System allows for longer spans of uninterrupted glass free of vertical mullions. The system is available with vertical butt-glazed joints as narrow as 5 mm to improve sightlines and allow for nearly colorless transitions between glass panels.
Fire-rated frames with the warmth of wood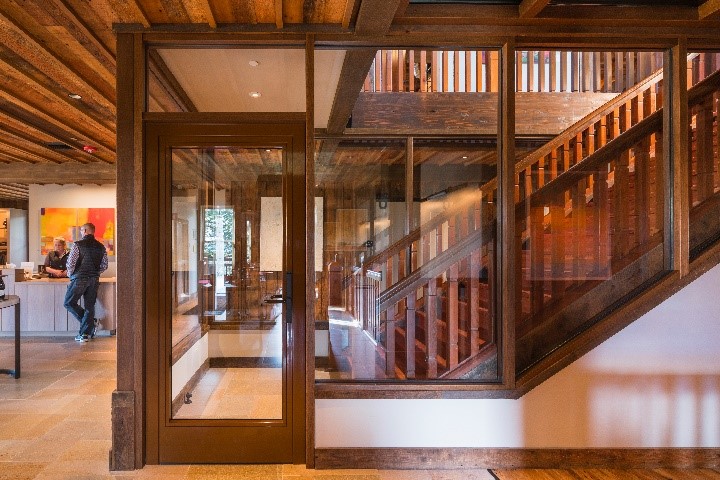 Architects are drawn to the beauty and warmth of wood frames, but their options have been limited for interior glazing applications with stringent fire and life safety performance criteria. Many fire-rated framing systems serve as a barrier to radiant and conductive heat transfer. However, none have been able to provide this level of performance while enabling a true timber aesthetic, tall free spans and the narrow profiles of non-rated framing systems. The Fireframes TimberLine™ Series sidelines this design challenge, bringing the beautiful look of slender, wood frames to interior areas requiring fire resistance. The framing system is built with a high-strength steel sub-frame and real-wood veneered metal cover cap. This allows the system to capture the allure of wood while serving as a barrier to radiant and conductive heat transfer. For enhanced design flexibility, cover caps are available in several wood species, including white maple, cherry, fir and oak.