How Modern Steel Frames are Advantageous for Fire-Rated Systems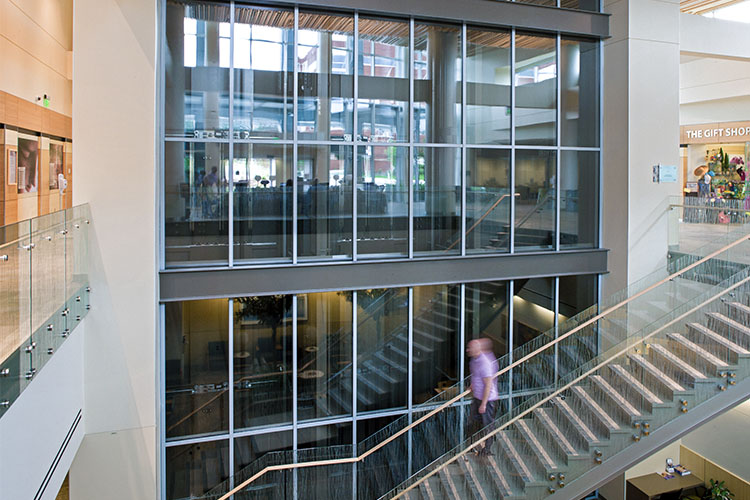 When developing a top-notch fire-rated glass curtain wall, window or door system, architects want to be certain that the frames will be both attractive and meet performance criteria. Thanks to the latest innovations from manufacturers, today's fire-rated steel frames check those boxes and more.
Fire-rated frames on the market that use inherently heat-resistant carbon steel and incorporate precise European engineering have sleek, narrow profiles. They allow for clean looks and crisp sightlines, and their well-defined corners and edges provide an eye-catching alternative to traditional hollow metal frames. Architects can use them to create expansive, code-compliant fire-rated glass curtain walls, beautiful atriums, and divided interior spaces where the glazing takes center stage.
As an added benefit, fire-rated steel frames have made it possible for design teams to create a better visual match with non-rated frames on the market. Not only do their slender profiles more closely resemble the appearance of currently available non-rated offerings, but architects can also select from a wide array of finishes to achieve their desired look. Fire-rated steel frames are even available with custom cover caps in various shapes, sizes and materials, from aluminum to real-wood veneered metal cover caps. Taking visual integration one step further, architects can now select fire-rated glass steel curtain walls with the smooth, monolithic appearance of a structural silicone glazed system.
Beyond the aesthetic appeal of today's fire-rated steel frames, they're also built to meet stringent fire- and life-safety performance criteria. Fire-protective and -resistive frames are required to pass comprehensive testing in order to receive their rating. Fire-protective frames can stop flames and smoke for their designated fire rating. Fire-resistive frames go a step further and also block the transfer of radiant and conductive heat. They are tested as a complete system, from the glass and frames to hardware and component parts.
On the performance side, steel's impressive strength allows the frames to support the added weight of heavier fire-rated glazing without a significant increase in profile size. This gives architects more design freedom as they look to bring the oversized glass trend to curtain walls and openings in areas with strict fire- and life safety criteria. Steel's high load carrying capacity also means that fire-rated steel frames can be used more sparingly, resulting in better daylighting and occupant views, as well as lower material and installation costs.
For architects looking for design flexibility and high-performance products that meet building safety requirements, fire-rated steel frames are an ideal solution.
As originally published in the September 2018 edition of Pushing the Envelope: How to Take Your Curtain Walls and Facades to the Next Level, a supplement of Building Design + Construction, sponsored by TGP. View the full supplement here.