Safe Solutions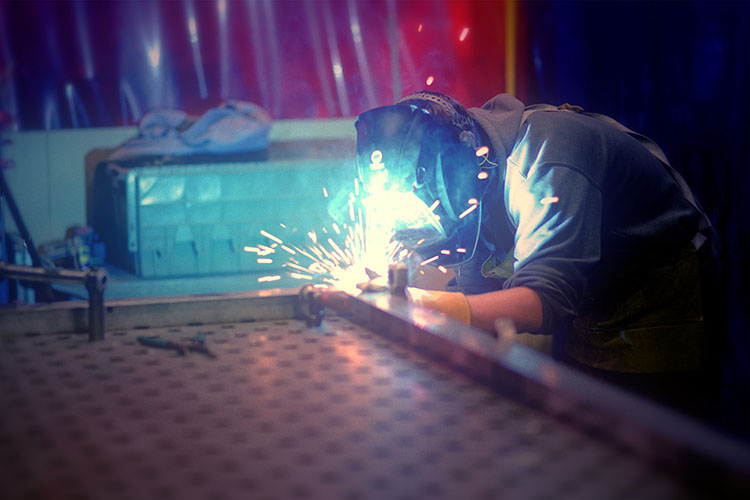 Glaziers' guide to fire-rated glass assemblies
Today's fire-rated glazing industry is one of innovative multi-functional product solutions for doors, entrances, walls, floors, exteriors and more. While fire-rated glazing products of the past were often limited to small squares of wired glass in corridor doorways, today's product options push the envelope, with large sizes, ultra-clear glasses, numerous framing options and seamless integration with non-rated systems. They meet stringent fire-safety demands alongside impact requirements, thermal performance specifications and visual quality expectations. They allow architects and building owners to bring glass into areas of the building that previously would have required opaque building materials due to fire-safety requirements.
"Over the last decade, manufacturing advances have given rise to clearer, larger fire-rated glass lites and new ways to frame fire-rated glazing," says David Vermeulen, national sales manager for fire-rated glass and framing supplier Technical Glass Products, fireglass.com. "This has expanded opportunities for transparent building compartmentation, making it so architects no longer have to make design concessions when it comes to fire-rated glazing products. Whether a firm wants a slender fire-rated framing system to maintain visual consistency with a non-rated system or the smooth, uninterrupted exterior surface of structural silicone glazed curtain wall systems, there is now almost always a fire-rated glazing solution."
The ever-growing range of fire-rated glazing solutions, combined with continuously changing codes and standards, can make the process daunting for contract glaziers. "Glaziers spend most of their days talking about non-rated glass and metals. When a fire-rated job comes around, we tend to get a lot of questions," says James Wharton, Northeast territory account manager for TGP. "Glaziers often need help interpreting spec, or clarifying requirements. They want to be sure they are using the right product for the application. They want to make sure that they are covered for cost and liability when they bid a job."
Getting fire-rated glazing projects right is critical, says Ron Madeley, director of engineering, TGP. The products are, at their root, a life-safety building material, and building owners rely on the correct specification, application and installation to ensure safe egress for occupants in event of fire. "A glazier has a great responsibility to the owner to make sure the materials they are buying and installing are correct. The glazier—not just the architect and material supplier—need to be well informed about the requirements. They need to make sure they understand," Madeley says.
This guide is intended to help glaziers navigate fire-rated glazing projects, providing need-to-know code and product information that can take the fear-factor out of fire-rated jobs. The guide offers best practices for installation, specification tips and an introduction to fire-rated codes and standards. It looks at evolutions in the market. A product section demonstrates solutions to common project challenges, and a series of case studies show the multi-functional capabilities of today's fire-rated glazing systems.
Best Practices for Specification and Installation
The steps to success in a fire-rated glazing project are straightforward, Madeley says. Glaziers—and architects and specifiers—must "understand the application requirements; understand the code; understand the installation," he says. However, each of those steps can present challenges for a project team, particularly if the players don't regularly work with fire-rated glass and framing installations.
Officials from TGP offer the following tips for both the specification and installation of fire-rated glazing materials. For each step in the process, the manufacturer can answer questions, provide solutions and help ensure a safe and successful installation.
Specification Tips:
Get to know the code requirements.
International Code Council's International Building Code, International Fire Code and International Existing Building Code, and National Fire Protection Association's Life Safety Code, NFPA 101, dictate fire-rated building requirements. Codes are regularly updated, so it's important to verify the version of the code in use in every project jurisdiction.
Get to know the ratings.
Fire-rated building products, including glass and glazing, are rated according to time (20, 45, 60, 90, 120 or 180 minutes) and by performance categories (fire protective or fire resistive).
Ensure consistent ratings between glass and framing.
Both the glass and the framing system must be tested and rated equal to or greater than the required code minimum. "You can't simply buy fire-rated glass and put it into a traditional storefront system," says TGP's Wharton. "When we're talking about fire-rated glazing, we're talking about systems."
Remember the hardware.
Fire-rated glass and glazing products are commonly found in doors and entrances, incorporating a range of hardware products. Hardware must be fire-rated and able to fit on the fire-rated frames. This is particularly important when working with narrower fire-rated frames. "Understanding what hardware is appropriate is important from a both an aesthetic and functional design perspective," Madeley says.
Consider all application requirements.
Today's fire-rated glazing products can serve any number of functions beyond fire safety, from impact safety to thermal performance. "We ask customers to think about everything they need from a product and not just what fire rating is required," Wharton says. "The fire-rating is of foremost importance. But, what else do you need from the product? One of the most common is impact rating."
Involve the manufacturer early in the process.
Manufacturers can address questions and problems regarding code requirements, product specification, application options, budget, product delivery, installation and more. The earlier they are involved in the process, the better equipped the manufacturer will be to address challenges.
Installation Tips:
Read and understand installation requirements.
Thoroughly read installation instructions ahead of time. "If you get onsite and have the installation team try to work through the process for the first time, you may limit your options when challenges present themselves," Madeley says. "Read the instructions early and determine how the process ties into the overall installation plan. This allows installers to best prepare from a material resource standpoint."
This preparation also allows glaziers to identify site-specific building conditions that might pose challenges during the installation. "We often see people scrambling to find a solution to a problem that they could have solved earlier in the process," Madeley says.
Carefully follow the installation sequence.
Do not jump ahead in the installation sequence. If a step is skipped during assembly or installation, the installer must undo and redo the work in the correct order. Installers should not attempt a workaround without consulting the fire-rated glazing manufacturer, Madeley says. Workarounds that may be successful when issues arise during a traditional glazing installation could lead to failure when used with a fire-rated system.
Only use fire-rated components and materials.
For a fire-rated system to perform as expected in event of fire, all components and materials must be fire-rated and/or as approved/tested by the testing agency. Substitutions for convenience or price should be avoided. "A material that is small, hidden and swapped out by mistake or by accident during installation could result in a critical failure."
Plan for additional weight.
Fire-rated glass and frames are typically heavier than traditional aluminum storefront. "The glazing itself is often heavier than traditional materials, and the frames are often made of steel or contain steel," says Madeley. Glaziers should make sure they have access to appropriate lifting equipment.
Allow for longer lead times.
Fire-rated glass and glazing products are specialty building products and may require additional time for delivery. This can pose additional challenges for glaziers in the event of a remake during a job. "If the product is mishandled and damaged, or if things are not sized correctly, getting it remade by the manufacturer can take additional time," Madeley says. This is also why it is critical to work with a manufacturer or supplier that provides quality materials made right the first time.
Coordinate delivery with manufacturer.
Material delivery will be similar to traditional glazing products. If the glazing schedule requires phasing or staggered installation, glaziers should work with the manufacturer early for assistance in coordination. "We can help phase delivery, and package and ship materials so it best serves the installation team on site," Madeley says.
Follow manufacturer's storage instructions.
Understanding specific manufacturer or supplier storage and handling instructions is key to preventing product damage. This is particularly important for installers working with new products.
As originally published in the September 2018 edition of Safe Solutions: Fire-rated Glass and Glazing Assemblies for Glaziers and Architects, a supplement of Glass Magazine, sponsored by TGP. View the full supplement here.