Interview: What you need to know about butt-glazed fire-rated systems
Jared Clay, Western Territory Account Manager, Technical Glass Products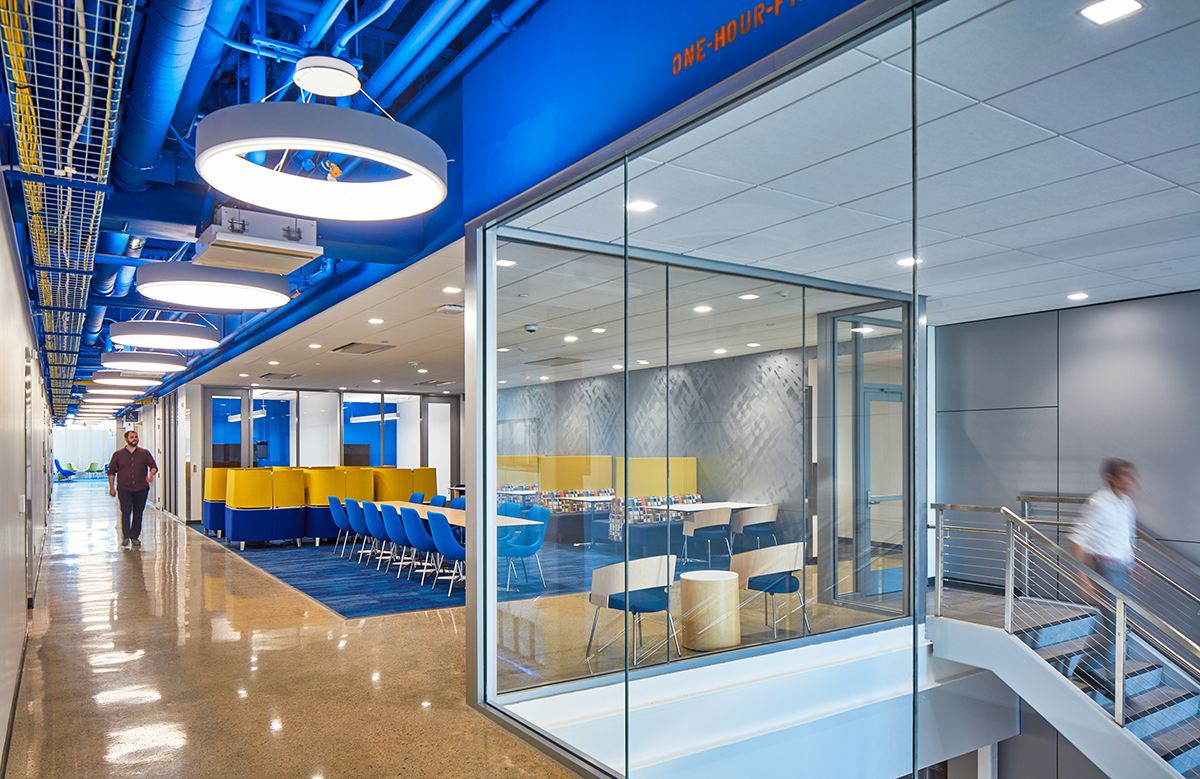 Q: How would you describe a butt-glazed fire-rated system to someone who is new to the glazing industry?
Put simply, a butt-glazed fire-rated system is composed of clear lites of fire-rated and impact safety-rated glass within a heat-resistive perimeter frame. As a wall assembly, it allows for large spans of uninterrupted glass while still providing a fire rating of up to 120 minutes.
To deconstruct the concept in more technical terms, the silicone-sealed, butt-glazed approach frees a transparent expanse of glass from needing colored internal spacers and vertical fire-rated mullions. Because these systems only require fire-rated frames around their perimeter, they offer larger glazing areas for improved visual connectivity, light transmission and a close visual match to non-rated systems—all while meeting fire- and life-safety codes.
For example, Technical Glass Product's (TGP) Fireframes Clearview® system is composed of Pilkington Pyrostop®, a low-iron, fire-rated and impact safety-rated multi-laminate glass that is held in place with a variety of perimeter frames. These include TGP's narrow profile Fireframes® Heat Barrier Series (rated for 60/120 minutes) and Fireframes Aluminum Series (rated for 60 minutes) or by L-angle steel frames by others (rated for 60/120 minutes). The system features a narrow, nearly colorless 5 mm vertical butt joint to maintain its seamless appearance. Together, all these components create a fire-resistive-rated monolithic glass aesthetic.
Q: What makes a butt-glazed fire-rated system unique?
Ironically, what makes this system special is that it doesn't look "special" at all. It blends in with a building's surrounding design aesthetic the same way a contemporary butt-glazed wall would, only it provides fire ratings and has been tested to stringent code criteria. The result is a feeling of openness and access to light in an application that once required solid walls for fire protection.
Narrow joints are finished with clear silicone, so there isn't a big "H" shaped spacer or thick vertical frame mullions interrupting views. The clear silicone finish provides nearly colorless transitions between adjoining pieces of fire-rated glass. In these assemblies, the perimeter of each butt-glazed elevation is held in place by narrow profile fire-rated frames.
Q: How do butt-glazed fire-rated systems help architects meet design goals?
Because systems like this have less framing and large glass sizes, they can support open floor plans while meeting critical fire- and life-safety requirements. For example, creating a visual connection between floors in an educational setting can help pique the interest of new students and support interdepartmental dialogue while providing a barrier to fire, smoke and radiant heat. In an office setting, these systems can help foster collaboration while sidelining distracting noise common from open office designs.
Further, they present the next step in a long evolution of fire-rated glazing having aesthetics comparable to non-rated systems. As such, they are perfect for a retrofit or renovation project. In these applications, butt-glazed fire-rated assemblies meet current code compliance while increasing light transfer and visual connectivity in a way that was not possible even 10 years ago.
Technology, biomedical research and higher education have all readily embraced butt-glazed fire-rated systems. In these applications, specifically commercial and educational research labs, these systems offer code-driven fire and life safety and connectivity, creating a less institutional environment. Outside of the lab, the system provides maximal access to daylight, which not only promotes productivity but also occupant wellbeing. While this is relevant in all buildings, studies have shown that it aids learning outcomes in educational settings.
Q: What are building designers most surprised to learn about butt-glazed fire-rated systems?
Since butt-glazed fire-rated systems have only been on the market for a few years, most building designers are shocked when they discover that a fire-rated assembly of its kind even exists. Often architects believe that fire-resistive walls need to be either completely opaque or sport thick horizontal and vertical frames, both of which limit their design options. These systems marry form and function to ease design constraints specifically in retrofit projects.
For example, Fairleigh Dickinson University wanted to redesign a classroom and computer lab into an animation lab, which required replacing a cinderblock wall with a fire-rated glass wall. A butt-glazed fire-rated system helped the architects meet code requirements while offering a close visual match to other non-rated glass walls for a cohesive design aesthetic.
Q: What's next for butt-glazed fire-rated systems?
As architects and designers increasingly opt for larger, more uninterrupted expanses of glass, TGP will continue to research and develop wall assemblies to push design limitations. It is important, then, that designers research developments in fire-rated glass and framing to see which options can match their specific needs in terms of code compliance, visual transition and communication between rooms.
The innovations from TGP have changed what's possible in fire-rated glazing. Our butt-glazed fire-rated systems have helped architects resolve the often conflicting pressures to maximize daylight and occupant wellbeing while also designing buildings for fire and life safety.