Interview: Sustainability in the Works with Tim Weller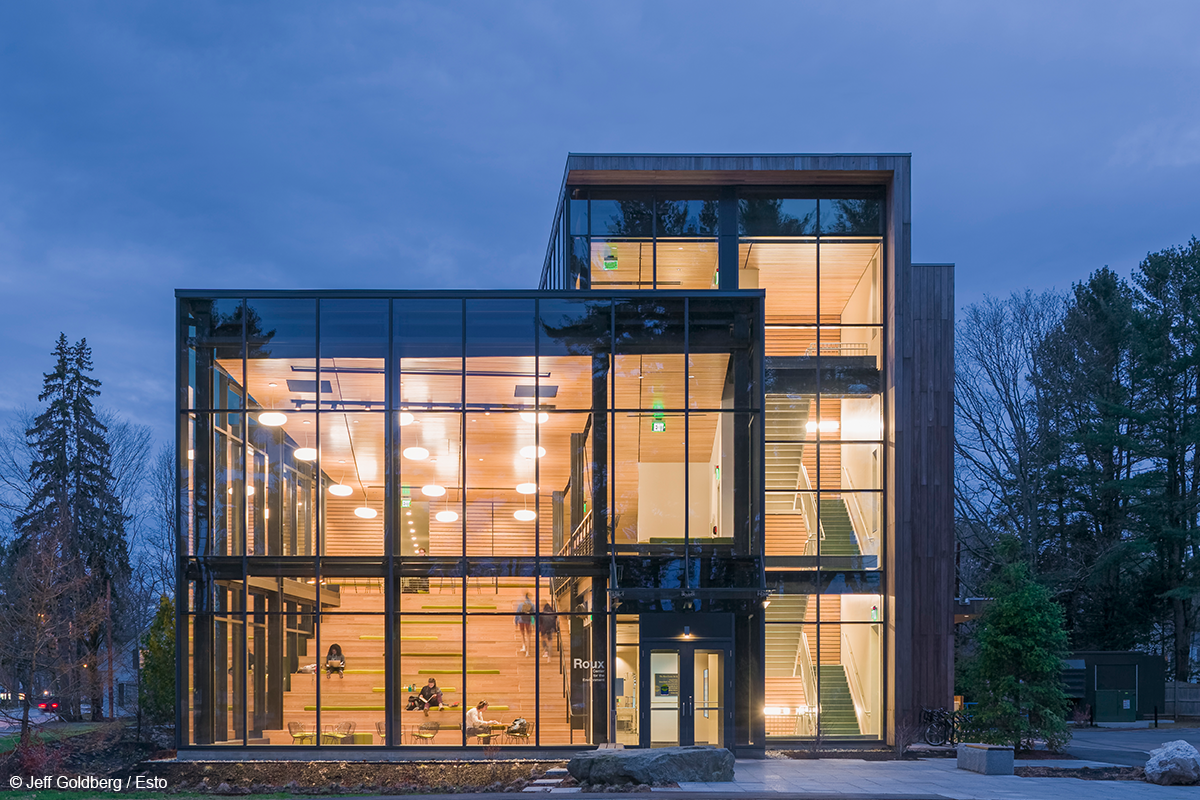 It's an understatement to say a lot has changed on the green building front in the last 20 years. LEED went from being an acronym no one could define in the early 2000s to an accepted industry term. In response, building codes evolved, addressing concerns such as energy, environmental stewardship and occupant wellbeing. As interest in high-performance, sustainable construction grew, numerous green building organizations began creating industry standards.
One of the most rigorous of these standards is the Living Building Challenge, which focuses on regenerative designs that positively impact their occupants and the natural world around them. In turn, the glass industry is increasingly being called to promote environmental stewardship and provide a detailed level of green building support to meet our customers' needs.
To learn more about how Technical Glass Products (TGP) is rising to the challenge, we sat down with Tim Weller, AHC/CDC, FDAI, manager of codes, standards and sustainability at Allegion, parent company to TGP, to discuss current and future sustainability initiatives and programs in the works.
Q. As green building becomes the expectation, a growing number of firms are requiring higher sustainable standards. How is TGP meeting these demands?
A. "In response to the demand for more environmentally conscious buildings, firms are adopting stringent ecological initiatives to help build in a way that provides for a sustainable future. While many of these are still voluntary, at TGP and Allegion as a whole, we recognize the importance of meeting these needs and providing firms with the materials and resources they need to complete their job. By diving into programs like the Living Building Challenge, we can ensure our fire- and life-safety products also support today's tough sustainability requirements. Our goal is not to compromise one outcome for the other. If a firm specifies a product like a fire-rated curtain wall system to comply with International Building Code standards, we want to ensure it can also meet their green building and design initiatives."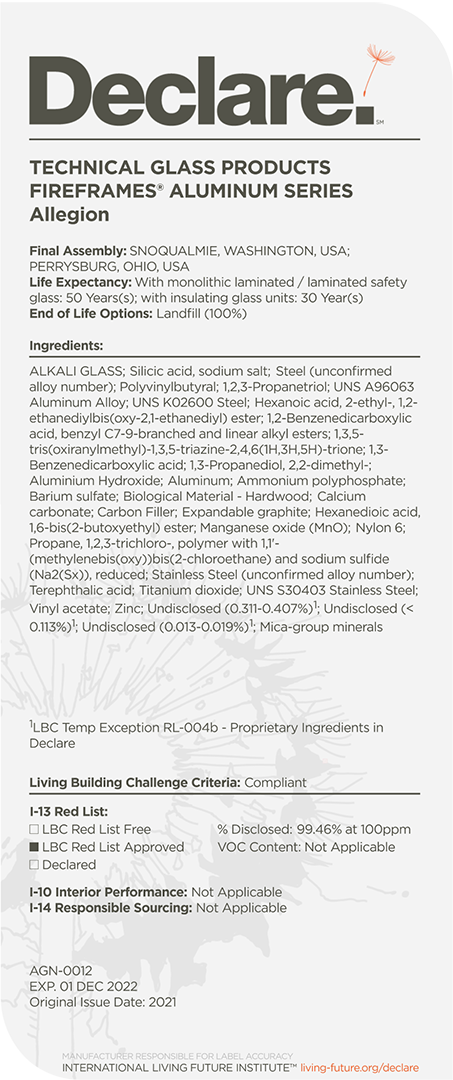 Q. Which of these voluntary standards are firms asking for the most?
A. "While LEED is perhaps the most widely used green building initiative, the Living Building Challenge is currently driving a lot of activity in firms. In short, the challenge is organized into seven performance categories, or "petals," that center on creating buildings that both give more than they take and positively impact those interacting with the structure. Because it's currently the most stringent green building program, firms are realizing that if they can satisfy Living Building Challenge criteria, they can also meet other green building requirements. This is driving mainstream acceptance, a trend we've seen at TGP firsthand. We used to just see smaller, one-off projects participate in the Living Building Challenge, but we're now seeing ongoing adoption by large, high-tech firms."
Q. What value do the Living Building Challenge Declare Labels provide to firms?
A. "Declare Labels disclose specific material content and ensure the entire product complies with all Living Building Challenge criteria. Think of it as Willie Wonka's golden ticket. The Declare Label is proof that the material contributes to the Living Building Challenge's sustainability benchmarks. Manufacturers and suppliers must disclose all ingredients in their products to ensure none of the over 900 "Red List" chemicals are used. They must also disclose sourcing information, as well as life cycle information. It's an arduous process with very little wiggle room. However, since launching in 2012, these labels have positively changed the materials marketplace by improving both the visibility of ingredients and the exchange of information between manufacturers and specifiers to enable a future of healthier buildings. They also offer firms a public disclosure with a level of transparency that surpasses any other material label."
Q. What steps has TGP taken to improve visibility within the building industry?
A. "At TGP we believe in the environmental importance of product transparency and that importance extends to some of the industry's toughest materials, such as fire-rated glazing. To show this, four of our products have earned a Living Building Challenge Red List Approved Declare Label. This means our Fireframes® Curtainwall Series, Fireframes® Aluminum Series, Fireframes® Designer Series with monolithic glass and our Fireframes® Designer Series with insulated glass units now offer complete material transparency, supporting green building goals while adhering to stringent fire- and life-safety codes."
What's next
As we see more firms diving into the challenge of environmentally restorative building, here at TGP and Allegion we want to be a reliable part of that process. Not only are we continually getting more products tested for Declare Labels, but in our LEED-CI Gold certified facility in Snoqualmie, WA, we are participating in the Puget Sound Energy Green Power Program. Through this program we're able to match 100% of our electricity with regional renewable energy that comes from naturally replenishing resources, like wind and geothermal energy. This lowers our carbon footprint and supports local renewable energy projects including Swauk Wind in Ellensburg, WA, and Neal Hot Springs in Vale, OR.