Glass is in Session: Specifying Fire-Rated Glazing for Educational Settings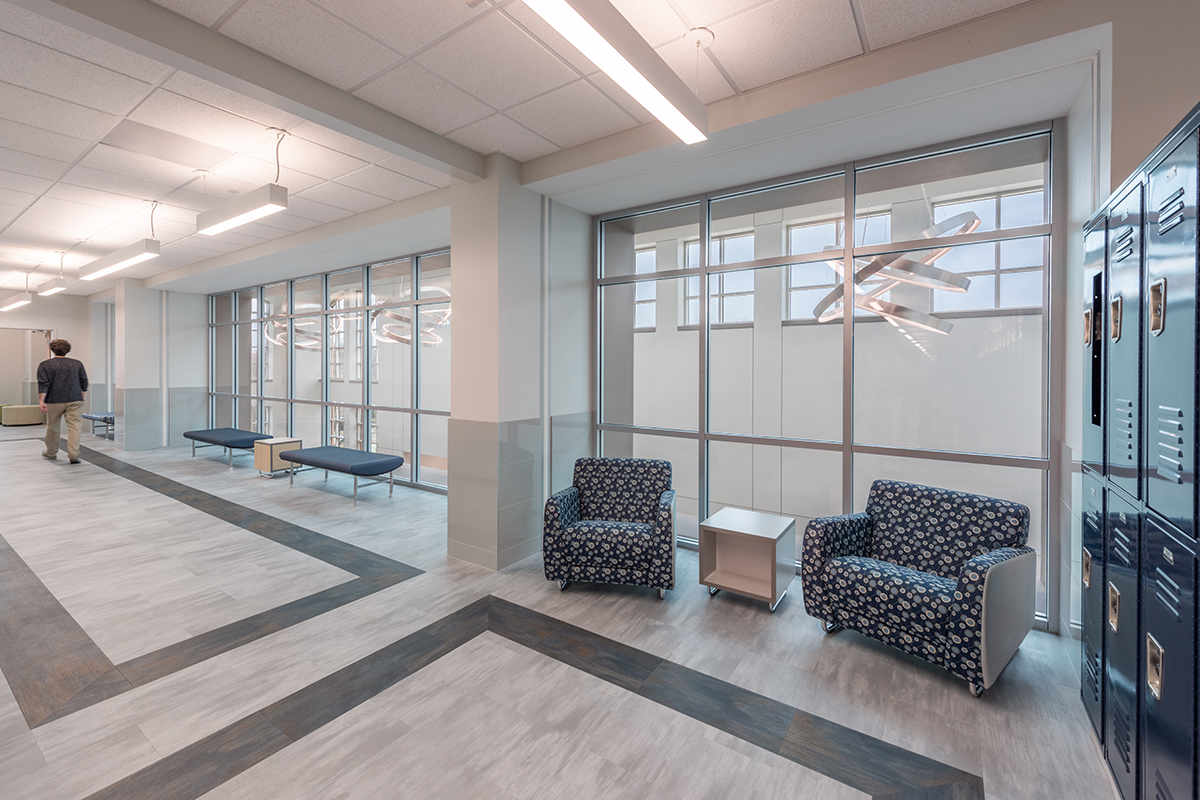 Due to the well-studied evidence that access to daylight supports academic success, glass has become a mainstay in school design. It can help bring light into a school's interior and support the collaborative nature of education by increasing sightlines between spaces. But its ability to contribute to student success does not replace the need for it to provide critical fire and life safety in select areas of the built environment.
For a long time, this often exclusively meant using fire-rated materials along exits and egress pathways. With the rise of school-related violence, it has become increasingly important that fire-rated glazing also support school security best-practices—such as secure entry vestibules or hardened exteriors. Meeting security goals or building code requirements can complicate glazing specification.
In areas where these considerations overlap, creating a multifunctional, fire-rated system can be even more difficult. This is because ballistic glass and films are often plastic-based and so may burn quickly and intensely. This, in turn, could exceed the standard testing parameters of fire-rated components, effectively inhibiting their ability to provide the level of protection they are certified to. This detail makes it important to specify multifunctional, fire-rated assemblies that use compatible components or are tested as a complete system to ensure one form of protection is not compromised for another.
These additional considerations may have architects wondering what type of glass is used in schools for areas where fire safety requirements and security goals intersect. While they may remember the small rectangles of wired glass that dotted their middle and high schools, it should be noted this type of glazing has drawbacks that limit where it can now be used. There are other, more robust options available.
How does fire-rated glazing fit into school design?
The International Building Code (IBC) outlines where it is necessary to incorporate fire-rated materials into a design. This encompasses both fire-protective and fire-resistive glazing. Fire-protective materials protect against fire and smoke and are often limited to certain sizes and applications. Fire-resistive glazing protects against fire, smoke and heat and often sees broader application possibilities within national model codes. While local jurisdictions can amend model codes, the fact is fire-rated materials will be a part of all public building design. Schools are no exception.
That said, some districts have either modified the IBC or elect to have more stringent fire- and life-safety code requirements. For instance, every corridor and every classroom in Chicago area schools must have a one-hour fire-resistive rating. In addition, some states have recently passed laws that require bullet-resistant glass or forced-entry rated glass in specific areas of the built environment, further complicating specification.
But what types of glass are used in school design to meet these ratings?
School safety has outpaced wired glass
For decades, wired glass was the only viable option for fire-protective glazing. However, embedding the wire into the annealed glass actually weakens the material, reducing its impact resistance by up to 50 percent. When shattered, the wire mesh can also hold shards of glass, creating piercing and cutting hazards.
For these reasons, the International Building Code (IBC) effectively prohibited monolithic wired glass from use in "hazardous locations" in the 2004 edition—even when those locations need fire-rated glazing. Further, this type of glazing does not block radiant heat and so cannot be used where fire-resistant glass is required.
What type of fire-rated glass is used in today's schools?
Wired glass is not the only option when it comes to fire-rated glazing. Today, architects and designers can choose between options that provide a closer resemblance to non-rated float glass and meet impact safety requirements. For example, fire-rated glass ceramics have become a mainstay in the fire-protective market. Available with fire ratings from 20 to 180 minutes, their clear, strong crystalline structure allows greater design flexibility to meet fire codes without sacrificing stylistic goals.
On the other hand, fire-resistive glazing often incorporates intumescent interlayers that, while clear during normal use, turn to foam when exposed to intense heat—blocking radiant and conductive heat for up to 120 minutes. Fire-resistive glazing is suitable for wall-to-ceiling or wall-to-wall applications as well as in full-lite glass doors, all while providing nearly the same level of clarity as float glass. It can also be a part of bullet-resistant glass systems. For example, Pilkington Pyrostop can be laminated to SmartGard® or School Guard Glass® for bullet-resistant-rated solutions in areas where building codes also require fire-rated materials.
It should be noted that when a project chooses to use multifunctional, fire-rated glazing, specifying compatible components helps ensure the entire system will perform as intended in the field.
What's the difference between forced-entry, bullet-resistant-rated glass and ballistic glass?
When a school elects to enhance security by hardening the perimeter or creating internal areas of refuge, there are a few options for specification. However, navigating the differences between attack-, forced-entry-, bullet-resistant and ballistic glass can be confusing—especially since, as of yet, there are no universal standards for security. To be certain that a product meets the intent of a project, it is important to know the differences between ratings and to consult with security glazing experts.
Glazing that meets ASTM E2395 or ASTM F1915 and HP White 5-aa10 testing standards can be labeled as forced-entry resistant. ASTM F1915 measures how well a material can slow or outright stop break-ins and comes in four grades depending on what types of attack it can resist and the duration of its protection. Often, these assemblies will also meet impact safety ratings ANSI Z97.1 and CPSC 16CFR1201.
For bullet-resistant-rated glass, the UL 752 testing standard assigns a rating level based on the type of bullet an assembly can resist. While the first three levels are linear (each level meets the requirements of the ones before it), after that, the standards vary. As such, it is recommended that project stakeholders consult with a security expert to ensure a product meets their project's goals.
In 2021, the National Glass Association (NGA) published a free resource that explains the differences between these ratings and what levels of security they provide. This can be invaluable for introductory knowledge to security ratings.
Finding a balance with multifunctional, fire-rated glazing
Whatever the security goals are for a school, it is paramount, when an area also requires fire-rated materials, to specify proven, compatible components. Doing so helps provide peace of mind that the entire system will provide the same levels of protection that its individual parts provide. TGP has risen to this challenge by pairing our fire-rated materials with compatible forced-entry resistant and bullet-resistant products.
To help further clarify how TGP assemblies can help meet a project's fire- and life-safety goals, architects and designers can compare different systems through our product comparison tool.