COMMENTARY: Glass - Designing with an Eye Towards the Future
Featuring Devin Bowman, general manager, Technical Glass Products & AD Systems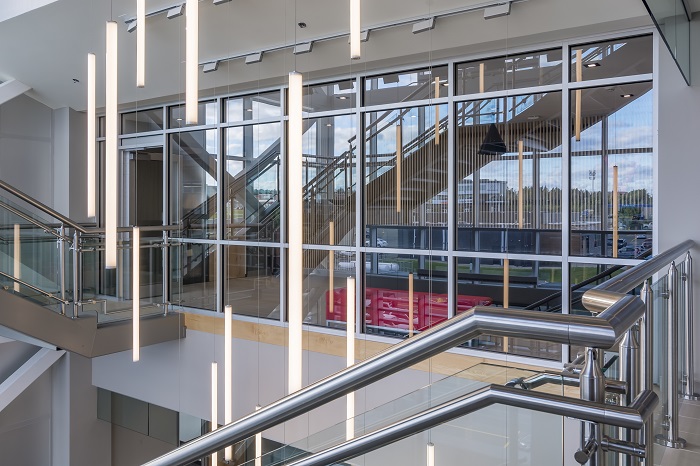 There is no question that the built environment is at an inflection point as we navigate the current health crisis. Firms are reconfiguring offices to encourage people to spread out and use flexible workspaces. Healthcare facilities are turning to technology, touchless access points and natural ventilation as infection prevention strategies. Companies across the country are pressing pause to re-evaluate projects that were already substantially designed and constructed. In nearly every scenario, the building and design community is constructively challenging the status quo to create better, healthier spaces.
As the industry adjusts to meet the demands of today, how will a reimagined built environment impact material staples like glass?
Glass is intricately linked to human health and enjoyment. Given its ability to provide people with views to the outside world and access to sunlight, there is little doubt it will remain predominant in fixed and operable applications. While we can't break down and forecast its use in full given the evolving landscape, we can examine strategies to ensure glass addresses both short- and long-term occupant wellbeing needs as the stakes raise for healthier buildings.
Addressing the need for compartmentation
Over the last six months, there has been an immediate need to sub-divide interiors to mitigate the spread of infection and reduce occupancy loads. As we move ahead with an eye for emergency preparedness, it is reasonable to think these temporary measures may become commonplace. Material selection will be key to the success of building compartmentation. Whether the need is for flexible solutions to meet surge capacities or permanent upgrades, the opaque materials often used to sub-divide spaces can force concessions on daylight, views and aesthetics. Looking to transparent alternatives like glass to preserve a sense of openness will be central to creating interiors that are still light, bright and enjoyable.
Fire-rated glass is one existing solution that is well suited for spaces requiring lasting compartmentalization, particularly those with stringent life safety and air quality control criteria. It can serve as a barrier without detracting from the light-filled ambience central to modern buildings. It can also allow for meaningful visual connectivity and a sense of shared openness—both crucial considerations as building owners and architects carefully examine where and how people interact in public spaces.
Turning to multifunctional glazing solutions
As design teams dissect building layouts and look for material solutions to improve the health and wellbeing of occupied spaces, more will be expected of glazing solutions. This will drive demand for multifunctional glazing systems. With one product, design teams can meet a range of building criteria. This may take the form of a glazing assembly that diffuses soft, even light and provides operability to support ventilation. Or, it may look like a fire-rated glass door that provides clear lines of sight, fire protection and integral operable blinds to balance privacy with light transfer.
Beyond improving performance outcomes, a multifunctional approach simplifies product specification and can help offset cost concerns design teams have with value-adds. Additionally, since glass assemblies can last 30 years or more, facility owners have adequate time to amortize costs as they create spaces centered on the needs of those using their buildings.
The value of a system-based approach
As building and design professionals seek to advance the health and wellbeing of environments while reconfiguring spaces, it will grow increasingly important to view glass as part of an overall system. This includes the glass, frames and hardware right down to the component parts. A laser focused view on upgrading just one part of the overall assembly can address one problem, while inadvertently creating another. We see this often in the fire- and life-safety realm. One small alteration to fire-rated glass to improve its security measures, such as a film with flammable resins, can effectively negate its fire-rated performance.
So, whether the goal is to enhance school security, improve operability to create healthier interiors or incorporate automation in doors to reduce touchpoints in high-traffic areas, it is important to ensure all aspects of a glazing system have been tested and approved with a credible third-party prior to installation.
Moving forward
In the words of Chris Meek, Associate Professor of Architecture at the University of Washington and Director of the Integrated Design Lab (IDL), "The occupant experience is really about comfort. And, buildings either do the work of providing comfort or discomfort for the people inside them. That's why it's so important to create buildings that are centered on the needs of their occupants." As we look towards the future, let's continue evaluating strategies to deploy in an effort to improve the occupant experience over a building's tenure, while still addressing critical life safety and performance goals.