View this newsletter as a web page.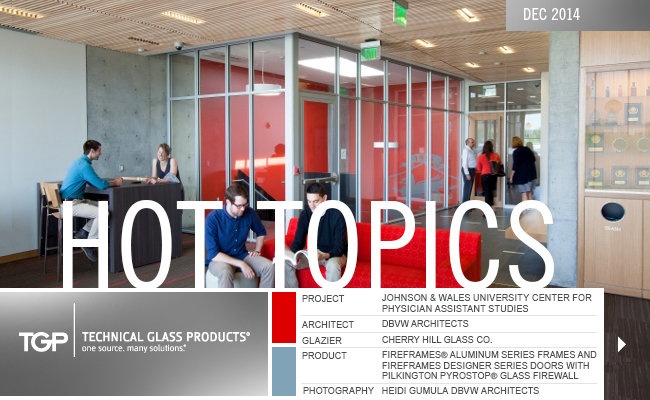 Introduction

The winter edition of Hot Topics takes a look at how architects are using TGP's products to create projects with stunning results and explores new and innovative product offerings. Also highlighted is our new school design resource page and AIA/CES registered steel curtain wall and channel glass system continuing education course. Read about these topics and more in this edition of Hot Topics.

---

Attend a lunch presentation in your area on fire-rated glazing, daylighting design or steel curtain wall systems. Participants receive 1 LU/HSW Hour for each class.

Take one of our AIA registered online courses:
• Fire-rated glazing
• Daylighting design
• Steel curtain wall systems

---


Fire-Rated Framing System Makes the Grade at Johnson & Wales University Center
A key component of DBVW Architects' plans to turn a historic jewelry factory into a high-tech facility for Johnson & Wales University physician assistant students was creating an open, vibrant atmosphere. To achieve the desired transparency the firm faced the challenge of finding a fire-rated glazing system that satisfied building codes while also supporting transparency to the entry.
DBVW Architects found the solution by combining Fireframes® Aluminum Series fire-rated frames with Pilkington Pyrostop® transparent fire-rated glazing, both supplied by Technical Glass Products (TGP).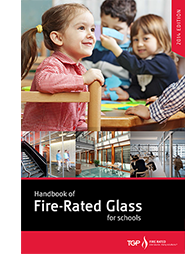 New Resources Available to Support Designing for Fire Safety in Schools
As more students enter the school system each year, creating educational facilities with a balanced fire and life safety protection plan has never been more critical. Fire-rated glazing can be a key part of the solution. But, what special considerations should be taken into account when choosing fire-rated glazing for schools? What testing does it have to pass to be used in hazardous locations? These are just a few of the questions answered on our new designing for fire safety in schools webpage. Visit the online resource featuring case studies, articles, project images and our newly updated Handbook of Fire-Rated Glass for Schools to learn more about making the right fire-rated glazing investment in our children's schools.


Introducing FireLite Plus® WS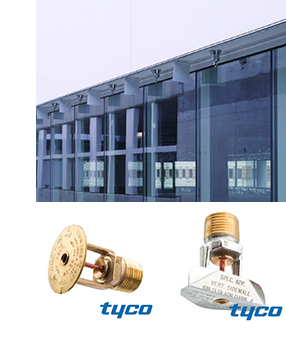 FireLite Plus® WS is a laminated, fire-rated glass ceramic material listed for use in doors, sidelites, transoms and borrowed lites. When acceptable to the local Authority Having Jurisdiction (AHJ), it may be used with Tyco Model WS window sprinklers as an alternative to fire-rated assemblies requiring a 2-hour fire rating.
Unlike tempered glass, using FireLite Plus WS glazing eliminates TYCO's WS Special Application Sprinkler requirement for keeping combustible materials a minimum of 2" from the glass face (typically accomplished by incorporating a minimum 36" ponywall). This allows architects and designers to increase the glazing area and, if desirable, butt-glaze the fire-rated glass ceramic for a seamless aesthetic free of vertical frames.
Learn more about FireLite Plus WS.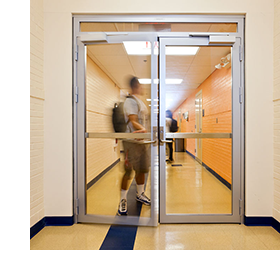 Grim Hall Opens the Door to Fire Safety with Fire-Rated Ceramic Glass
For the renovation of Lincoln University's Grim Hall life sciences building into a state-of-the-art computer facility, Tevebaugh Associates worked to provide students and faculty with improved life safety protection. Updating the 1925-era facility's fire-rated doors was an important component of the project.
To provide fire-rated doors with updated functionality, the design team selected FireLite® NT ceramic glass with FIreframes® Designer Series door frames, both from TGP.


New AIA Course: Channel Glass & Steel Curtain Wall Systems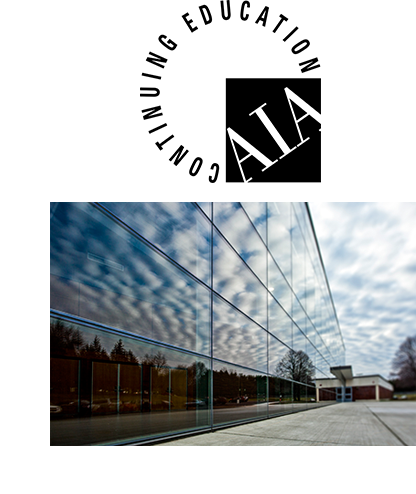 TGP is now offering a new AIA/CES registered course, Channel Glass and Steel Curtain Wall Glazing Systems –Design from an Entirely New Perspective.
The course discusses new options in channel glass system design, steel curtain wall systems as a modern alternative to traditional aluminum storefront systems, and how steel curtain wall and channel glass systems can contribute towards LEED certification. This AIA/CES registered course qualifies for 1 LU/HSW hour.
Watch for a TGP University featuring the new course in the coming months or contact us to request a presentation for your firm.


Learning by Design: Steel Curtain Wall System Blends Two School Campuses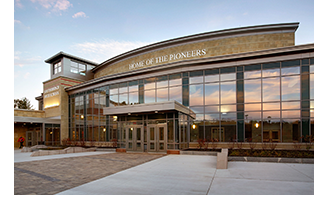 When land and budgets are tight, building a new school is often out of the question, no matter how outdated the existing facility. Fortunately, district officials for Mary E. Wells Junior High School and Southbridge High School in Southbridge, Massachusetts, found another solution. To preserve real estate and provide students with accommodations fit for the 21st century, they hired Tappé Associates to design a facility that would hold students from both schools. The result is the new Southbridge Middle-High School.
To ensure the right gateway between the two school campuses, one consideration during the design phase was selecting a glass façade that connects students to each other and the outdoors while also meeting thermal performance requirements. The design team found their solution with the SteelBuilt Curtainwall Infinity™ System from Technical Glass Products (TGP).


Introducing Pilkington Profilit™ With TGP ProColor™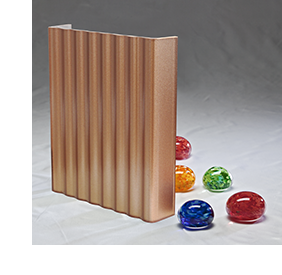 Pilkington Profilit™ channel glass is now available with TGP ProColor™. The high-performance channel glass coating does not require tempering, and is bonded to the glass with high adhesion strength to resist chipping and fading. The result is a sophisticated, vision-obscuring façade, wall or partition with lasting beauty.
TGP ProColor is available in a wide array of opaque and metallic colors with varying translucency. It can be applied to standard and low-iron Pilkington Profilit channel glass options in all available textures, including Standard Cast, Macro, Slim Line, Wave and Clear. For added protection and opacity, TGP ProColor is available with an optional flood coating. Custom-blended TGP ProColor coatings are available upon request.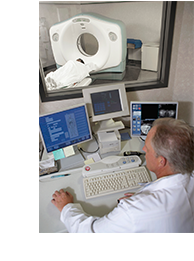 Gamma Ray Shielding Glass Now Available
Pro-GR lead shielding glass was developed to protect against high radiation gamma rays used in PET scan facilities. Windows in a PET scan facility require higher radiation shielding protection performance than a conventional X-ray or CT room. Pro-GR is made of glass materials with a lead oxide content of approximately 70%, the equivalent of ultra-high lead content block glass used for nuclear power facilities.



TGP LEED Project Database
Visit our new LEED project webpage to learn how design professionals are using TGP's fire-rated and architectural glass and framing products to help earn points towards LEED certification and meet green building goals.
Request for Photography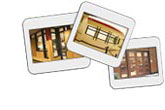 If you have a recent project that incorporated our products (such as Pilkington Pyrostop®, Fireframes®, FireLite® family of products, Pilkington Profilit™, SteelBuilt Curtainwall® Systems or Neoparies®), we would like to see it. Simply e-mail snapshots and a brief description to photos@fireglass.com. Your work could be featured in a case study, Hot Topics or in a national publication.
---
Technical Glass Products
8107 Bracken Place SE
Snoqualmie, WA 98065
800-426-0279
Fax: 800-451-9857
Email: sales@fireglass.com