View this newsletter as a web page.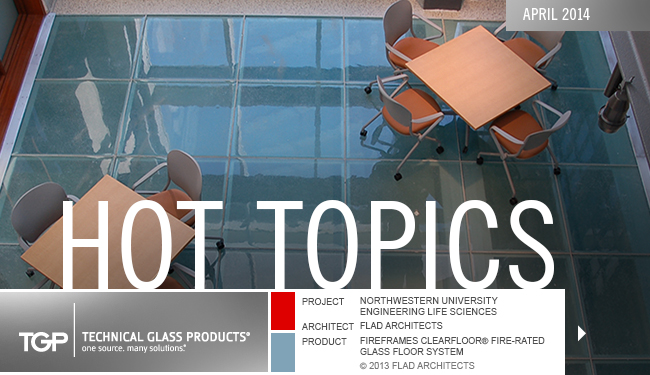 Introduction

The spring edition of Hot Topics takes a look at how architects are using TGP's products to create projects with stunning results, explores new and innovative product offerings and highlights our upcoming continuing education webinar event. It also overviews our website updates, which help glaziers and design professionals more quickly find the information they need. Read about these topics and more in this edition of Hot Topics.

---

Attend a lunch presentation in your area on fire-rated glazing, daylighting design or steel curtain wall systems. Participants receive 1 LU/HSW Hour for each class.

Take one of our AIA registered online courses:
• Fire-rated glazing
• Daylighting design
• Steel curtain wall systems

---

| | |
| --- | --- |
| Project: | University Center at the New School |
| Architect: | Skidmore, Owings & Merrill LLP |
| Product: | Fireframes® Heat Barrier Series steel framing and Pilkington Pyrostop® glass firewall enclosed stairway |


Fire-Rated Glass Floor System Captures Light in Science and Engineering Infill
| | |
| --- | --- |
| Project: | Northwestern University Engineering Life Sciences |
| Location: | Evanston, IL |
| Architect: | Flad Architects |
| Product: | Fireframes ClearFloor® fire-rated glass floor system |
To allow for light penetration from the fifth floor to the ground floor in Northwestern University's Engineering Life Sciences infill, Flad Architects desired a large, central atrium. It would allow light to spill down and throughout the building to promote student wellbeing. One potential setback with drawing light through the atrium was meeting fire and life safety codes. The firm needed a code-approved floor to divide the shaft into two segments, and to provide a barrier to fire and chemicals in the case of an accident. However, many of the floor systems available to meet these stringent fire and life safety codes were opaque fire-stopping materials such as concrete and corrugated steel.
Read more about how the design team used a fire-rated glass floor system developed by TGP to satisfy fire and life safety codes and help illuminate the infill.


Next TGP University® Webinar Program: Form, Function & Fire-Safety, April 30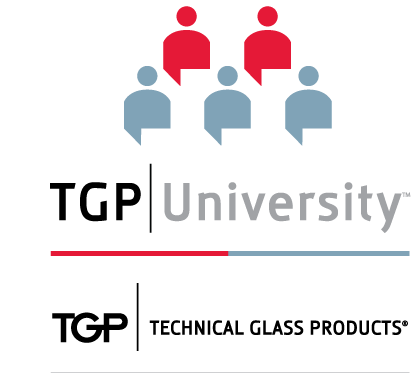 TGP is proud to announce the next TGP University webinar, Form, Function & Fire-Safety: A Clearer View of Fire-Rated Glass & Framing, will take place Tuesday, April 30, at 10 a PT / 1 p ET.
The course discusses new trends in fire-rated glazing, along with specification considerations. It also compares active versus passive fire protection systems, and provides important insight on fire-rated glazing system testing, including the fire, impact and hose stream tests. The educational webinar concludes with a section that addresses how to use fire-rated glazing systems to meet codes without compromising aesthetics and sustainable design goals. This AIA/CES registered webinar qualifies for 1 LU/HSW hour.
Limited space available. Register now.


FireLite® Ceramic Glass and Fireframes® Aluminum Series USGlass 2013 Product of the Year Winners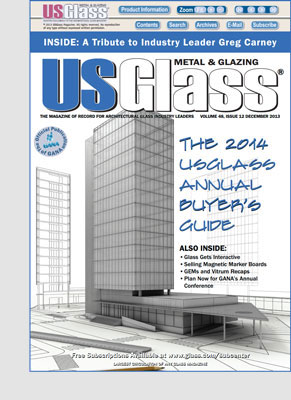 Every year, readers of USGlass, Metal & Glazing magazine vote on their favorite products of the year. In the December 2013 issue, readers selected TGP's FireLite® ceramic glass and Fireframes® Aluminum Series as 2013 Product of the Year winners (pages 82-85).
The product description details why FireLite is the clear option for highly visible locations where design professionals do not want to compromise on aesthetics to meet fire-safety codes. It also highlights the aesthetic and performance benefits of Fireframes Aluminum Series, including narrow profile frames that act as a barrier to radiant and conductive heat transfer.


New Product SpeciFIRE® Now Available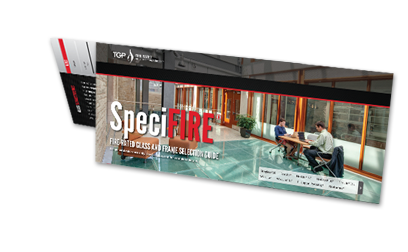 TGP's Product SpeciFIRE® slide rule system has long been used by design professionals as a tool to determine which fire-rated glass and framing systems best meet their project requirements. The Product SpeciFIRE was recently updated to make fire-rated glass and framing selection even more accurate. The most significant change is the addition of the Fireframes SG Curtainwall® Series.
To get your copy, please contact your Technical Glass Products Territory Account Manager or visit our online version.


Channel Glass Illuminates Science at the University of San Francisco
| | |
| --- | --- |
| Project: | University of San Francisco, John Lo Schiavo, S.J. Center for Science and Innovation |
| Location: | San Francisco, CA |
| Architect: | NBBJ |
| Product: | Pilkington Profilit™ translucent channel glass system with Lumira® aerogel insulation |
The University of San Francisco's new John Lo Schiavo Center for Science and Innovation (CSI) brings science to the forefront of academic life. Its glossy, three-story exterior invites students into the facility, and then flows sleekly down into the hillside where below-grade laboratories and classrooms make efficient use of space on the landlocked campus.
In implementing the design vision, one challenge was to create an attention-grabbing, garden-level façade that satisfies acoustic and thermal performance demands. NBBJ found their solution with Pilkington Profilit™ channel glass from Technical Glass Products (TGP).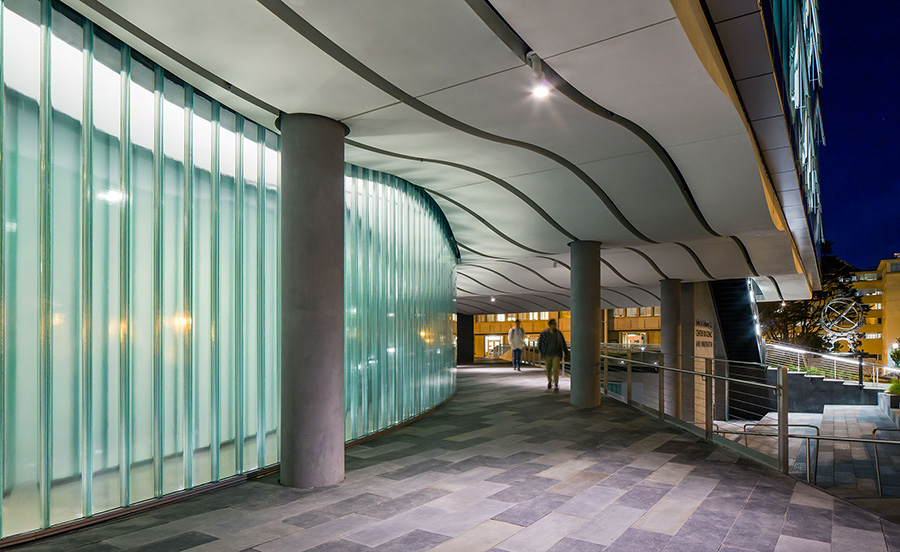 New TGP Representative Locator Now Available on TGP Websites
You can now search our network of TGP Territory Managers and employees to find a TGP representative near you. Simply select 'Contact' on the drop down menu of fireglass.com or tgpamerica.com and click on 'TGP Territory Managers.' You will then be able to select your location in a drop down menu on the page. There is a section for North America, as well as the Middle East.
Contact a TGP representative to receive technical support, discuss your next fire-rated or architectural glass and framing project, or to schedule an AIA-registered presentation or on-site, project specific meeting. You may also find a local FireLite® Distributor.



Jeff Razwick New Contributor to Glass Magazine's Glassblog
Each quarter, Jeff Razwick, President, Technical Glass Products, will be sharing industry insights on Glass Magazine's Glassblog. His first post kicks off with a discussion of why early collaboration with the building owner is key to developing glazing applications that deliver on both performance and human-centered design goals. Follow Glassblog and their veteran line-up of contributors for the latest glass and framing news.



GANA Names Chuck Knickerbocker BEC Division Member of the Year
The Glass Association of North America has selected Chuck Knickerbocker, Curtainwall Manager, Technical Glass Products, as their 2014 Building Envelope Committee (BEC) Division Member of the Year award winner. Chuck has served as the chair of the BEC Division Technical Committee since 2011, receiving accolades for his leadership in advancing building envelope code developments, testing standards, materials and practices.
Join us in congratulating Chuck on his well-deserved award and for his continued representation of the glass and framing industry.
---
Request for Photography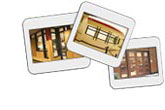 If you have a recent project that incorporated our products (such as Pilkington Pyrostop®, Fireframes®, FireLite® family of products, Pilkington Profilit™ or Neoparies®), we would like to see it. Simply e-mail snapshots and a brief description to photos@fireglass.com. Your work could be featured in a case study, Hot Topics or in a national publication.
---
Technical Glass Products
8107 Bracken Place SE
Snoqualmie, WA 98065
800-426-0279
Fax: 800-451-9857
Email: sales@fireglass.com