View this newsletter as a web page.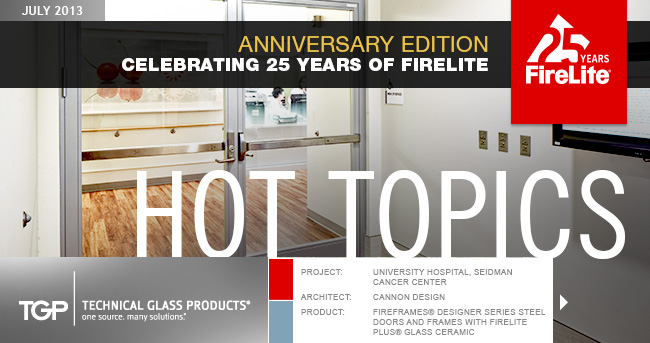 Introduction

Projects profiled in this edition of Hot Topics illustrate how architects are using TGP products such as the FireLite® family of fire-rated glass ceramic and Pilkington Profilit™ channel glass with stunning results. TGP continues to introduce new educational resources for designers, including the updated AIA-registered fire-rated glass and framing presentation, Form, Function & Fire Safety. Read how we are celebrating our 25th Anniversary of FireLite products and enter to win free gas for a year and fun '80s prizes at fireglass.com/25.

---

Attend a lunch presentation in your area on fire-rated glazing, daylighting design or steel curtain wall systems. Participants receive 1 LU/HSW Hour for each class.

Take one of our AIA registered online courses:
• Fire-rated glazing
• Daylighting design
• Steel curtain wall systems


Join Us in Celebrating
25 Years of FireLite®
Since 1988, the FireLite family of fire-rated glass ceramic from Technical Glass Products has been clearly bodacious. In honor of this anniversary, you can enter to win free gas for a year and fun '80s prizes! The FireLite Totally Rad Sweepstakes is open to design professionals and glaziers in the US and Canada from July 1, 2013, through September 30, 2013. Participants may enter the sweepstakes once per day on fireglass.com/25 and receive an additional entry for correctly answering the daily '80s trivia question.


Case Study: Clearly Protective:


Glazing for Life Safety at Seidman Cancer Center

Project: University Hospitals Seidman Cancer Center
Location: Cleveland, OH
Architect: Cannon Design
Product: FireLite Plus® fire-rated ceramic glass and Fireframes® Designer Series fire-rated frames
Glazier: Harmon

University Hospitals Seidman Cancer Center in Cleveland, OH, consolidates multiple patient care and treatment centers into a single 375,000 square-foot building. Since the new facility nearly triples the size of the existing hospital, it was important to foster collaboration between the different departments while keeping patient needs at the forefront of interior design, according to a project overview from Cannon Design. Access to natural light, patient privacy and clear wayfinding were key to the project vision.
| | |
| --- | --- |
| Fire-rated glass doubles, providing visibility | Privacy from sandblasted fire-rated glass |
The design team incorporated simple gateways, interior circulation paths and a building envelope providing views of downtown Cleveland and Lake Erie to meet project goals and create an environment of well-being. One consideration during this process was ensuring interior doors designated to provide fire protection by code supported clear wayfinding and light transfer. Solid doors made of materials such as steel can protect against the spread of fire. However, their opaque form limits the extent to which design professionals can provide patients and personnel with natural daylight and visibility between spaces.
One method for bridging fire safety and design conflicts in Seidman Cancer Center was to use full-lite, fire-rated glass doors and transoms from Technical Glass Products. TGP's FireLite Plus® premium-grade ceramic glass in Fireframes® Designer Series doors allowed the design team to provide up to 90 minutes of fire protection for doors.
FireLite Plus premium-grade ceramic glass uses TGP's ultraHD® Technology to create a nearly distortion-free surface for clear viewing. It can also be lightly sandblasted and maintain its fire rating. This allowed Seidman Cancer Center to use FireLite Plus in doors requiring full visibility, as well as applications where it was desirable to obscure vision while still allowing in light.
FireLite Plus is a laminated glazing material listed by Underwriters Laboratories for use in doors, sidelites, transoms and borrowed lites. It is available with fire ratings up to three hours and is impact safety-rated to ANSI Z97.1 and CPSC 16CFR1201 standards (Category I and II).
Fireframes Designer Series fire-rated doors and frames feature narrow steel profiles that provide a sleek, modern alternative to traditional hollow metal steel frames. The modular system is available with ratings up to 90 minutes and can be used with the FireLite family of products.
For more information on FireLite glass ceramic products and Fireframes Designer Series frames, along with TGP's other specialty fire-rated glass and framing, visit www.fireglass.com.


New AIA-Registered Fire-Rated Glass


and Framing Course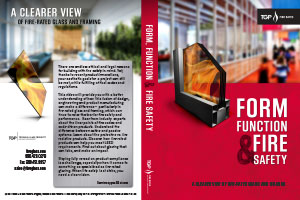 TGP now offers an updated AIA-registered course called, Form, Function & Fire Safety: A Clearer View of Fire-Rated Glass and Framing. The video addresses numerous modern fire-rated glazing and framing options, product testing standards and how the 2012 International Building Code updates affect specification. TGP offers the 24-minute video and corresponding presentation as part of its InOffice® live architectural presentations, live webinar series and online course offerings available through fireglass.com. The course qualifies for 1.0 Health, Safety and Welfare (HSW) learning unit hour in AIA's Continuing Education System (CES).


Shattered School Safety:


Is Bullet-resistant Glass the Answer?

In the wake of the Sandy Hook Elementary School tragedy, glass is at the forefront of many discussions to improve school safety. In some cases, offenders have used glazed areas as an entry point, begging the question: If schools used bullet-resistant glass, would students be safer? The answer is not so simple. Check out the Fired Up blog for Jeff Razwick's take on this important issue.


Next TGP University® Webinar Program:
Steel Curtain Wall Systems, July 30
TGP continues its highly successful TGP University webinar series with an upcoming event on Tuesday, July 30, at 10:00 am PT / 1:00 pm ET, entitled Steel Curtain Wall Systems: Limitless Design Possibilities.
Design professionals will learn how architects are using modern steel curtain wall systems to achieve larger spans of glass and minimal frame dimensions to maximize the capture of natural light in their designs. This AIA/CES registered webinar qualifies for 1 LU/HSW hour.
Limited space available. Register now.


Case Study: Dallas City Performance Hall
Project: Dallas City Performance Hall
Location: Dallas, TX
Architect: Skidmore, Owings & Merrill LLP and Corgan Associates
Product: SteelBuilt Curtainwall Infinity™ System and SteelBuilt Window & Door® Systems
In the 68-acre Dallas Arts Districts, the publicly funded Dallas City Performance Hall helps capture the artistic spirit of local drama, dance, music and production companies for city residents. It also evokes a simple elegance that befits the beauty of its famous neighbors, including The Dee and Charles Wyly Theater and The Margot and Bill Winspear Opera House.
The art venue first sets the stage for its audiences with the SteelBuilt Curtainwall Infinity™ System and SteelBuilt Window & Door® Systems from Technical Glass Products (TGP). The curtain wall system is typically three times stronger than traditional aluminum curtain wall systems and can use as a back mullion nearly any type of structural member, from stainless steel to glulam beams. This enables greater free spans, larger areas of glass and reduced frame dimensions.
The result is a lyrical, delicate entrance fitting for an art venue. The curtain wall's main entry soars up to 41 feet and 3 inches tall, while large glazed lites connect passersby to the 59,000-square foot public art venue. For enduring beauty, the strength and durability of steel help ensure the curtain wall can withstand the high traffic levels of a shared public space.
For more information on SteelBuilt Curtainwall Infinity products, along with TGP's other specialty architectural glass and framing, visit tgpamerica.com.


Case Study: United States Courthouse


San Diego, CA
Project: U.S. Federal Courthouse
Location: San Diego, CA
Architect: Richard Meier & Partners
Product: Pilkington Profilit™ OW (Low-Iron) translucent channel glass system
A channel glass system wraps around the lobby and mezzanine of San Diego's new federal courthouse. Its curving form helps create an elliptical-shaped entry, which Richard Meier & Partners designed to be highly visible from all approaches to the building and to contrast with the building's otherwise rectilinear shape. The curve is made possible by the slender frames and narrow glazed segments in the Pilkington Profilit™ channel glass system, which allows for radii as low as 78 inches (1.9 m).
In addition to creating a sleek arc around the lobby entrance, the cast-glass channels let large amounts of light into the lobby. Low-iron oxide channel glass allows for up to 90 percent visible light transmission while still maintaining privacy for building occupants.
For more information on Pilkington Profilit channel glass products, along with TGP's other specialty architectural glass and framing, visit tgpamerica.com.



Customer Surveys
You may have received an email survey in the last few months if you attended a continuing education course, met with a salesperson or placed an order with TGP. We are committed to proving the highest quality service, information and products in our industry. These surveys are designed for our customers to share feedback with us, allowing us to better improve our products, processes and service. If you have recently completed one of our surveys, we appreciate your feedback.



TGP Specs Now Available through BSD SpecLink-E
BSD SpecLink-E is a master guide specification writing, management and production system with built-in intelligence designed to dramatically expedite editing tasks and reduce specification production time, while also minimizing errors and omissions. As of the June 2013 release, the following TGP products are now available for specification through the system: The FireLite® family of fire-rated glass ceramic, Pilkington Pyrostop® glass fire-walls, Fireframes® family of fire-rated framing systems, SteelBuilt curtain wall systems and Pilkington Profilit™ channel glass systems.



TGP Now Listed on ecoScorecard for BIM
TGP products are now available on EcoScorecard for BIM. EcoScorecard for BIM is a free, product decision-making tool that provides green documentation at the point of design. TGP's listing is intended to bring greater clarity to how our glazing and framing products can help meet green building rating objectives and environmental goals. The specification tool quickly demonstrates how our products can contribute to certification systems, reducing project certification guesswork during the design phase.
Visit Technical Glass Products on EcoScorecard for BIM today to select a TGP product for evaluation. Then, find which green building rating systems apply.



Get Connected with TGP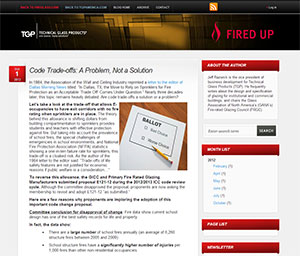 Feeling social? Interact, share ideas and learn more about fire-rated and architectural glass and framing by liking us on Facebook, following us on Twitter or visiting us on YouTube or our new Media Hub. We discuss building industry trends, showcase projects and provide news updates on all of these platforms.
Also, check out Jeff Razwick's "Fired Up" blog on fireglass.com and read Chuck Knickerbocker's "Field Notes" blog on the USGlass magazine website.
---
Request for Photography

If you have a recent project that incorporated our products (such as Pilkington Pyrostop®, Fireframes®, FireLite® family of products, Pilkington Profilit™ or Neoparies®), we would like to see it. Simply e-mail snapshots and a brief description to photos@fireglass.com. Your work could be featured in a case study in Hot Topics or in a national publication.
---
Technical Glass Products
8107 Bracken Place SE
Snoqualmie, WA 98065
800-426-0279
Fax: 800-451-9857
Email: sales@fireglass.com