View this newsletter as a web page.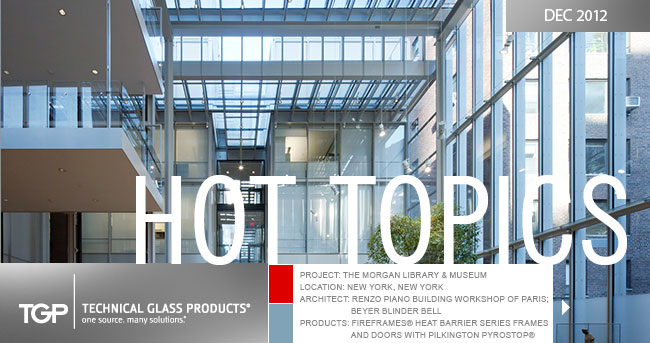 Introduction

Projects profiled in this edition of Hot Topics illustrate how architects are using TGP products such as Fireframes® Curtainwall Series fire-rated curtain walls and Pilkington Profilit™ Hurricane LT channel glass with stunning results. TGP continues to introduce educational resources for designers, such as our new AIA-registered fire-rated glass and framing video that will be available in the next few months. We've also launched a new and improved tgpamerica.com for easier access to the glazing specification tools you need, along with a design-inspired photo gallery. Read about the new site and learn how you can enter to win a Nikon® digital SLR camera package by registering at tgpamerica.com and on our Facebook page.

---

Attend a lunch presentation in your area on fire-rated glazing, daylighting design or steel curtain wall systems. Fire-rated course participants receive 1 LU/HSW Hour. Daylighting design and steel curtain wall systems course participants receive 1 LU/HSW/SD Hour.

Take one of our AIA registered online courses:
• Fire-rated glazing
• Daylighting design
• NEW! Steel curtain wall systems


Fireframes® Aluminum Series


and Fireframes SG Curtainwall® System
Now Rated up to 2 Hours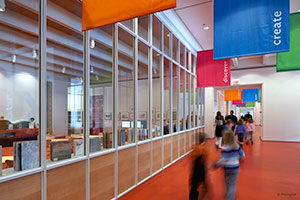 Design professionals can use Fireframes® Aluminum Series frames to create tall spans with narrow profile frames that match the look of non-rated aluminum systems. Initially, the high strength steel subframe and aluminum cover system tested to a 60-minute fire rating. TGP is excited to announce that recent, patent-pending changes helped the system achieve a 120-minute fire rating.
Fireframes SG Curtainwall™ allows design professionals to develop large, fire-rated glazed walls with the smooth, monolithic appearance of a structural glazed system. Originally tested to 90 minutes, this system has recently achieved a 120-minute rating.


Case Study: Fire-rated Curtain Wall


Provides Right Dose of Fire Protection
and Daylight in Healthcare Facility

Project Name: MultiCare Good Samaritan Hospital, Dally Tower
Location: Puyallup, Wash.
Architect: Good Sam Design Collaborative, in conjunction with Clark/Kjos Architects and GBJ Architecture
General Contractor: Skanska USA
Building Type: Commercial, healthcare
Glass: Fireframes® Curtainwall Series with Pilkington Pyrostop® glass firewall
Glazier: Harmon
Glass Supplier: Technical Glass Products, Snoqualmie, Wash.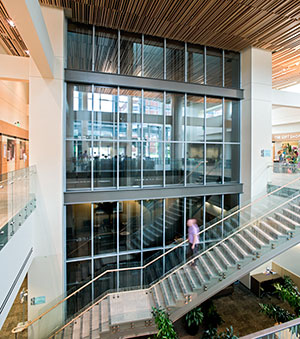 When Good Sam Design Collaborative, Clark/Kjos Architects and GBJ Architecture embarked on the design of the Dally Tower at MultiCare Good Samaritan Hospital in Puyallup, Washington, a point of emphasis was providing visitors with increased access to natural light. Greater amounts of daylight in healthcare occupancies can help enhance therapeutic experiences, establish environments in which patients can heal faster, and aid building teams in earning points towards LEED® certification.
To ensure Dally Tower patients and visitors have access to natural daylight within the nine-story, 357,000-square-foot facility, the building and design team implemented numerous daylighting features, including glass canopy covered entries, expansive windows and circulation hubs oriented to allow light to easily transfer between interior spaces.


New AIA-registered Fire-rated Glazing


and Framing Presentation Coming Soon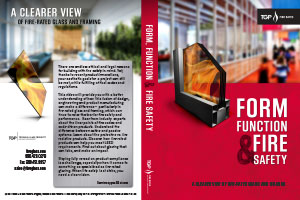 TGP will soon expand its library of AIA-registered presentations to include a new continuing education program called "Form, Function & Fire Safety: A Clearer View of Fire-Rated Glass and Framing." The video focuses on the different types of modern fire-rated glazing and framing, testing standards for these products and the 2012 International Building Code updates that affect where these products can be used. TGP will offer the video as a part of its InOffice® live architectural presentations and webinars and as an online program available through fireglass.com and tgpamerica.com.


Now Available: Metric and Imperial


Data Sheets

To improve customer support, TGP has split many of its product data sheets into separate metric and imperial versions. The new facts sheets can be found on fireglass.com, for these products:


Stainless Steel


Fire-rated Framing Options

The Fireframes® Curtainwall Series and Fireframes Designer Series now feature durable stainless steel frame finish options. The addition of a true stainless steel finish enables increased aesthetic design flexibility in a low maintenance system.

The Fireframes Curtainwall Series incorporates precise European engineering to allow for large, multi-story expanses of glass in locations where the total glazing exceeds 25% of the wall area. The narrow steel frames can incorporate large panes of fire-rated glass.

Fireframes Designer Series provides a modern alternative to traditional hollow metal steel frames. Using narrow steel profiles, the Designer Series system can incorporate a wide range of fire-rated materials with glass sizes that surpass traditional systems.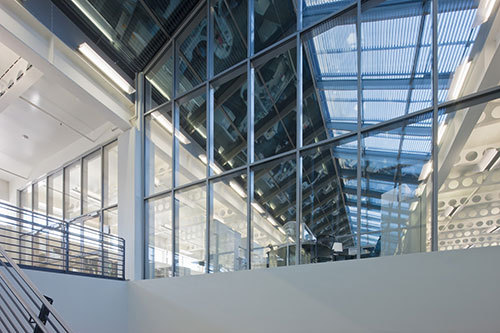 Fireframes® Curtainwall Series frames with Pilkington Pyrostop® fire-rated glass


The New
TGPAmerica.com
TGP invites you to explore our newly redesigned specialty architectural products website tgpamerica.com. The dynamic site features easier navigation, better mobile device compatibility, and an enhanced photo gallery with easy share functionality. The site's BIM models and interactive glass texture module provide a better picture of how specialty glass and framing systems can improve building design. Also new to the site are a media hub and links to TGP's Facebook and Twitter accounts.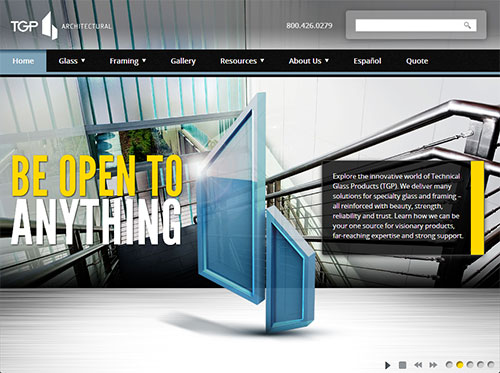 Enter to Win


a Nikon® DSLR Camera!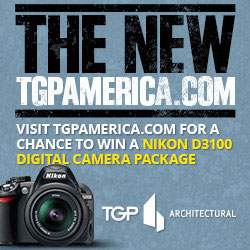 While exploring the new tgpamerica.com, be sure to enter to win one of six monthly Nikon® D3100 Digital SLR camera packages! The sweepstakes is open to design professionals and glaziers in the US and Canada from October 1, 2012 through March 31, 2013. Participants may enter the sweepstakes once per day on tgpamerica.com during the six-month entry period. For additional entries, Like TGP on Facebook and fill out the simple registration form once per day for the duration of the sweepstakes. Extra entries are awarded for each friend referred to the sweepstakes via Facebook.


Case Study: Hurricane-rated Channel Glass


Tower Tops SCAD Museum of Art's Contemporary Expansion

Project Name: The Savannah College of Art and Design (SCAD) Museum of Art
Location: Savannah, Ga.
Architect: Sottile & Sottile; Lord, Aech & Sargent; and Dawson Architects
Building Type: Commercial expansion, museum
Glass: Pilkington Profilit™ Hurricane LT
Glazier: Glass Systems, Inc.
Glass Supplier: Technical Glass Products, Snoqualmie, Wash.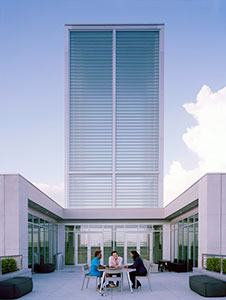 Grafted onto the 19th-century brick remains of the Savannah College of Art and Design (SCAD) Museum of Art is an 86-foot tall, semi-transparent channel glass tower. It is the first application to use hurricane-rated channel glass in a horizontal, dual-glazed configuration without additional support.
To meet code, the installation needed to satisfy hurricane-rating requirements. In this instance, the glazing needed to be approved only for the Small Missile Impact Test since the tower starts 30 feet above ground level. However, at the onset of the project, only Large Missile Impact Test approved channel glass was available. While such channel glass provides extra protection, the strict design and glass orientation limitations necessary to meet code hindered the original design intent.



TGP Expands


to the Middle East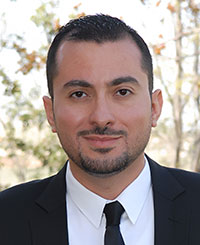 To better serve our customers in the Middle East, TGP recently opened a sales office in Dubai, UAE. TGP offers a full line of UL-listed and labeled fire-rated glass and framing products and architectural glass and framing products throughout the region. In addition, TGP provides architects with a range of design and support tools, including BIM and 3-D modeling, CSI format specifications, architectural specification manuals, product fact sheets, project design and engineering support.
Technical Glass Products, DMCC
Reef Tower, 29th Floor
P.O. Box 115738, Dubai, UAE
P +971-4-4487579
M + 971-50-3955325
F +971-4-4487112
Karam Hamadeh
Middle East Territory Manager
Karamh@fireglass.com



Get Connected with TGP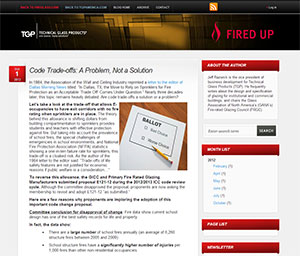 Feeling social? Interact, share ideas and learn more about fire-rated and architectural glass and framing by liking us on Facebook, following us on Twitter or visiting our new Media Hub. We discuss building industry trends, showcase projects and provide news updates on all three platforms. Join in the conversation by posting comments and sharing your insights.
Also, check out Jeff Razwick's "Fired Up" blog on fireglass.com and read Chuck Knickerbocker's "Field Notes" blog on the USGlass magazine website.



TGP Introduces TGP University®


Webinar Program

TGP recently launched a new webinar format for TGP University® market-wide presentations. Design professionals attended the webinar featuring steel curtain wall systems, which was presented by Chuck Knickerbocker, TGP's curtainwall manager, and Tysen Gannon, LEED AP, Gannon Associates. The steel curtain wall webinar is available on demand.
Watch for upcoming TGP University webinar topics on fireglass.com and tgpamerica.com early next year.



AIA-registered Presentations


Now Available via Real-time Webinars
In addition to in-person TGP InOffice® presentations, TGP now offers AIA-registered courses through real-time webinars. Design firms can request either type of session via fireglass.com and tgpamerica.com.
---
Request


for Photography

If you have a recent project that incorporated our products (such as Pilkington Pyrostop®, Fireframes®, FireLite® family of products, Pilkington Profilit™ or Neoparies®), we would like to see it. Simply e-mail snapshots and a brief description to photos@fireglass.com. Your work could be featured in a case study in Hot Topics or in a national publication.
---
Technical Glass Products
8107 Bracken Place SE
Snoqualmie, WA 98065
800-426-0279
Fax: 800-451-9857
Email: sales@fireglass.com