View this newsletter as a web page.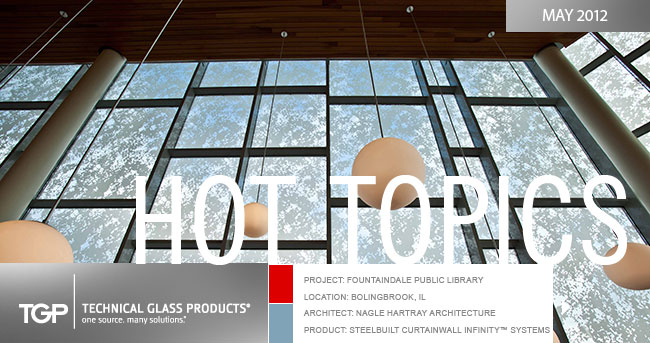 Introduction

The projects profiled in this edition of Hot Topics illustrate how architects are using TGP products such as Pilkington Pyrostop® glass firewalls and the SteelBuilt Curtainwall® family of products in innovative design applications. TGP continues to forge the way with state-of-the-art offerings coming soon to our SteelBuilt Curtainwall family of products. We've also launched a new and improved fireglass.com for easier access to our design tools and unparalleled customer support. Read about the new site and learn how you can enter to win a new iPad® by registering at fireglass.com and on our new Facebook page.

Check out all of these subjects and more in this edition of Hot Topics.

---

Attend a lunch presentation in your area on fire-rated glazing, daylighting design or steel curtain wall systems. Fire-rated course participants receive 1 LU/HSW Hour. Daylighting design and steel curtain wall systems course participants receive 1 LU/HSW/SD Hour.

Take one of our AIA registered online courses:
• Fire-rated glazing
• Daylighting design
• NEW! Steel curtain wall systems


The New Fireglass.com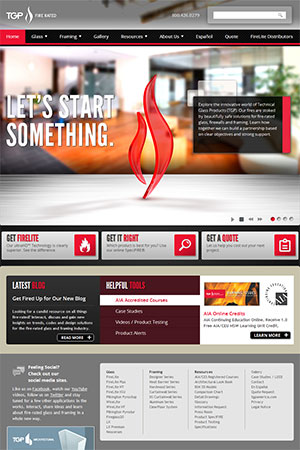 TGP invites you to explore our world of beautiful and high-performance fire-rated glass and framing on our newly redesigned website. The dynamic site features easier navigation, better mobile compatibility, and an updated SpeciFIRE® specification tool that simplifies the fire-rated glass and framing product selection process. Enhanced resources for architects, such as a robust image gallery and case study section, help design professionals better envision how to use fire-rated glass and framing systems to enhance building aesthetics. New to the fire-rated glazing website are community-oriented features, including the "Fired Up" blog authored by Jeff Razwick, TGP Vice President of Business Development, and links to TGP's recently launched Facebook and Twitter pages.
Fireglass.com offers online continuing education courses registered with the American Institute of Architects (AIA), BIM 3D models, and rapid-response quoting, among other support tools. The site provides product information on a wide-range of fire-rated glass and framing systems, including the FireLite® family of clear and wireless ceramic glass, Pilkington Pyrostop® glass, and Fireframes® specialty frames for windows, doors and curtain walls.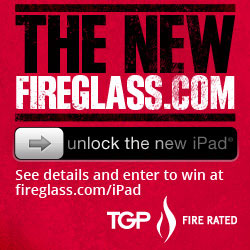 Enter to Win


the New iPad®!

TGP is giving away one new iPad per month for six months. Enter to win on the NEW fireglass.com, and Like us on Facebook for additional entries. The earlier you enter, the better your odds of winning, so enter today! Remember to come back and enter each day to increase your chances of winning.


Fire-Rated Curtain Wall


Provides Manhattan Mansion with Elegant Fire Protection

Project: East 80th Street Townhouse
Location: Upper East Side of Manhattan, 170 East 80th Street
Architect: Toshiko Mori Architects
Real Estate Developer: Wemi:t LLC
View PDF
Featured as Wall Street Journal's New York House of the Day, showcased on Homes of the Rich, and spotlighted on Curbed NY, Manhattan's 170 East 80th Street townhouse is as luxurious as its eight-figure price tag. Three years ago, it was a different story for the Upper East Side mansion. Manhattan street goers would have walked by it without a second glance.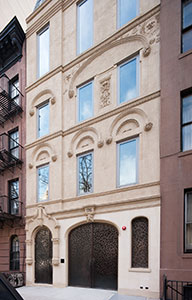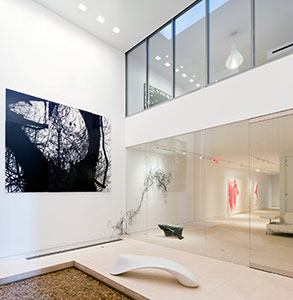 Financer-turned-developer Kate Shin, president of Wemi:t LLC, and a group of investors discovered the 1890s carriage-style townhouse and its untapped potential in 2008. To capitalize on the real estate, the group hired Toshiko Mori, principal of Toshiko Mori Architects, to transform the space into a luxury lifestyle property with high-end amenities and a hint of what Shin calls "Eastern Influence." Integral to this process was rethinking the townhouse layout to improve light and ventilation.
"A lot of times if you go into these townhouses, it's very dark," stated Shin in a Real Times article. "We are trying to maximize the efficiency of the layouts, to turn all this dead space into useful space."
Mori helped resolve the light-dilemma by incorporating ten-foot or higher ceilings on every floor, more than 40 windows and skylights, an exterior curtain wall and a vertical garden positioned in the center of the townhouse. During this process, one challenge was how to provide daylight in areas requiring fire-rated materials along building lot-lines, without compromising aesthetics. Stylish fire-rated protection was paramount since two primary areas required to meet fire and life safety codes were the gallery room's spectacular centerpiece – an interior waterfall measuring 22 feet wide by 23 feet tall – and the dining area overlooking the pool.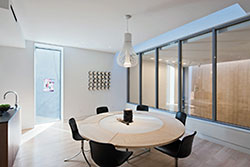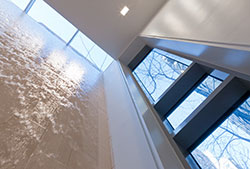 Shin and Mori found their solution with the Fireframes® Curtainwall Series from Technical Glass Products (TGP). The system combines sleek fire-rated frames with Pilkington Pyrostop® glass for extensive spans of sophisticated glazing in fire separations.
Today, a skylight and two elongated Fireframes Curtainwall Series windows help illuminate the eye-catching waterfall by providing the room with natural daylight. The graceful windows double as a light portal and fire-rated, lot-line protection. In the dining area, the system provides clean, open sightlines to the waterfall and reflecting pool below. Its sleek frames and clear glass panes match the classy interior while providing fire separation between spaces.
For more information on the Fireframes Curtainwall Series, along with TGP's other specialty architectural glass and framing, visit fireglass.com.
To learn more about the work of Toshiko Mori Architects, visit tmarch.com.


Now Available: Fire-Rated Frame Corners


for Fireframes® Aluminum Series and Fireframes Curtainwall Series

Traditionally, when an architect needed a fire-rated glass corner, the glass wall would need to end and a minimum of six inches of "fire-rated wall construction" would need to be built. This was typically gypsum board and steel studs or a column with applied fireproofing.

Similar to Fireframes Heat Barrier Series corners, TGP can now supply Underwriters Laboratories, Inc.,® rated corner assemblies for Fireframes Aluminum Series and Fireframes Curtainwall Series systems. These products allow architects to specify a continuous uniform assembly from a single source, ensuring that all painted finishes match perfectly. In addition, glaziers no longer have to delay project schedules with extensive coordination with other trades.

Fore more information, contact TGP at 800.426.0279 or sales@fireglass.com


Steel Curtain Wall System


Helps Fountaindale Public Library Nab LEED Gold in Style

Owner: Fountaindale Public Library District
Architect: Nagle Hartray Architecture
GC: Power Construction
Completion: 2011
Building Type: Civic; Public Library
Curtain Wall: SteelBuilt Curtainwall Infinity™ Systems
Glazier: Alliance Glass & Metal
View PDF
The Fountaindale Public Library in Bolingbrook, IL, is a learning wonderland. It utilizes expansive views, nature-evoking materials and a transformative floor plan to bridge the familiar with fantasy in storybook fashion. So compelling is the design that few visitors would readily guess the captivating space meets the USGBC's stringent LEED Gold standards – a prominent building goal for the library's board members.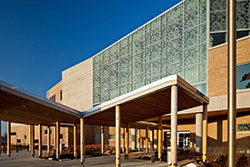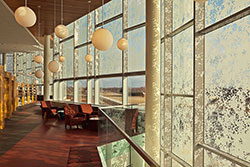 "From the outset of this project, the Fountaindale Public Library board identified being a LEED certified building as a primary objective," said Peggy Danhof, president of the Fountaindale Public Library, in a press release.
To ensure a visually compelling, green library, Nagle Hartray Architecture of Chicago wove numerous sustainable strategies and construction features into the building design. Among the elements that led to the certification was the use of daylighting. A balanced light-admitting plan helps improve the library's interior environment, as well as helps control energy consumption and light pollution.
One challenge the firm faced during the daylighting design process was how to adequately illuminate the library's third floor space and still ensure a good user experience. The ideal application would transfer large amounts of soft, glare-free light while simultaneously contributing to the library's otherworldly design.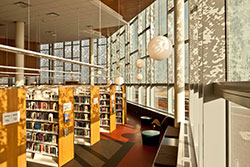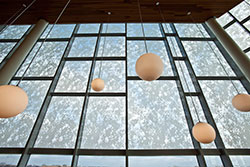 The firm found their solution with the SteelBuilt Curtainwall Infinity™ System from Technical Glass Products (TGP). The steel curtain wall system is typically three times stronger than traditional aluminum curtain wall systems and can use as a back mullion nearly any type of structural member, from stainless steel to glulam beams. This allows for greater free spans, larger areas of glass and reduced frame dimensions – each of which is necessary for effectively transferring daylight throughout the library's expansive third floor. Incorporated within the large curtain wall system is glazing that features a textured surface for more diffuse light. The silk-screen pattern is traced from tree shadows, helping to create a transformative effect for library members.
For more information on SteelBuilt Curtainwall Infinity products, along with TGP's other specialty architectural glass and framing, visit tgpamerica.com.
To learn more about the work of Nagle Hartray Architecture, visit naglehartray.com.


Specialty Steel Curtain Wall Framing


Sets the Stage at Trumbull High School Auditorium

Project: Trumbull High School Auditorium
Location: Trumbull, CT
Architect: JCJ Architecture
Product: SteelBuilt SG Curtainwall™ System
View PDF
Lecture halls often conjure up images of teachers, scribbling pens and ticking wall clocks – not students in dance shoes, theater costumes or choir robes. But at Trumbull High School, Trumbull, CT, the latter might be more appropriate.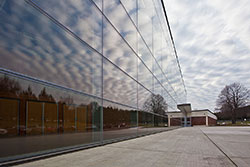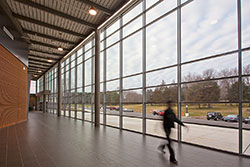 Built in 1971, the school's lecture hall quickly became the main auditorium and host to drama and dance productions, music events and assemblies. Nearly four decades later, however, the local board of education found that time and excessive use had taken their toll on the performance center, leaving it far from show worthy. Broken seats, overused lights and a host of age-related problems plagued the once modern space.
In 2008, the board put renovation plans into action. They commissioned JCJ Architecture, a renowned firm with a branch in Hartford, to not only upgrade, but also transform the lecture hall into a full-fledged performance center suitable for use by the entire town.
To be successful at integrating students with the greater public, the new design would need to center on what Greg Smolley, principal of JCJ Architecture, calls "a sense of shared openness." For inspiration, the firm looked at public school auditoria from pre-war schools. These airy, naturally lit designs led to the architects' desire for a natural light source – a portal that would let in daylight and allow people to look into and out of the space.
The firm opted for a glazed curtainwall that forms the building's exterior, spans the length of the auditorium and reaches toward the sky. Large spans of glass allow natural light to enter the hallway in front of the auditorium, pass through a second layer of curtainwall, and subtly illuminate the performing area. The opening also allows performers to draw inspiration from nature, and enables outsiders to watch dancers and performers practice on a regular basis.
With the basic design in place, the challenge for JCJ Architecture was to find the right curtainwall framing system – one with thin profiles, a smooth glass-to-frame surface and the ability to support oversized glazed lites. As a renovation, the system would also need to visually blend with the auditorium's neighboring buildings.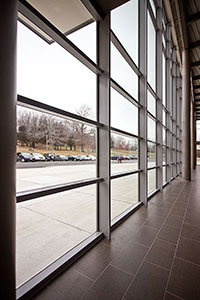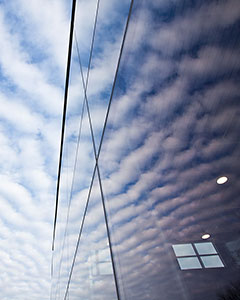 The firm chose the SteelBuilt SG Curtainwall™ System from Technical Glass Products (TGP). The steel curtainwall framing system is typically three times stronger than aluminum assemblies of the same profile dimension, allowing for reduced frame dimensions and greater free spans of glazing, both of which are necessary for increasing daylight and views.
Silicone sealant is used to seal the building from the elements and transfer wind loads to the supporting steel curtainwall. The finished aesthetic is of smooth and uninterrupted glazed lites, which provide clear lines of sight into and out of the auditorium.
"The curtainwall system was our vehicle for connecting performers to the outside world, and the outside world to the performers," says Smolley. "With SteelBuilt SG Curtainwall, viewers from outside the building can actually see straight through the stacked curtainwalls, over the chairs and down into the performance center."
In appearance, the curtainwall system is sophisticated and modern. It forms a straight, unadorned rectangle of glass that does not overwhelm, but rather gracefully complements the red brick of the surrounding building. The slender steel frames are subtle behind the glass, their form a delicate outline to the auditorium inside.
"Aesthetics were a main consideration," adds Smolley. "We wanted a sleek framing system that would blend in with the surface of the glass. With the SteelBuilt system, you can look all the way down the surface of the application without the framing bumping out. That's important. It really takes viewers' attention off the framing and allows them to focus on the glass and what's behind it."
For more information on SteelBuilt SG Curtainwall and the SteelBuilt family of products, along with TGP's other architectural glass and framing, visit tgpamerica.com.
To learn more about the work of JCJ Architecture, visit jcj.com.


Coming Soon:


SteelBuilt Curtainwall® Stainless Systems

SteelBuilt Curtainwall® Stainless Systems provide the aesthetic and performance advantages of stainless steel for beautiful and strong glazed curtainwalls. As with TGP's other SteelBuilt Curtainwall systems, the stainless steel option enables larger glazing free spans, narrower frame profiles and improved thermal performance compared to traditional aluminum curtainwall assemblies.

The system features a true pressure-glazed curtainwall made of stainless steel versus other manufacturers' stainless steel systems that rely on structural steel members clad in brake-formed stainless steel frames with silicone sealant. Building professionals can incorporate SteelBuilt Curtainwall Stainless Systems with TGP's other stainless steel lines, including SteelBuilt Curtainwall Infinity™ and SteelBuilt Window & Door® Systems.

Available finishes include brushed or mill finish (not mirror). For more details please contact sales@tgpamerica.com and watch for product details available on tgpamerica.com in the coming months.


Lumira™ Aerogel (Formerly Nanogel)


from Cabot Corporation

Pilkington Profilit™ channel glass can be filled with Lumira™ aerogel, a lightweight insulation material produced by Cabot Corporation that is ideally suited for daylighting designs. The exceptional thermal performance of Lumira aerogel helps increase energy efficiency. Lumira aerogel also promotes soft, even light dispersion, reduces unwanted noise and resists condensation. TGP is the exclusive supplier of Lumira aerogel for channel glass systems.

For more information, please see Pilkington Profilit Insulation product page, or contact TGP.
| | |
| --- | --- |
| Building 115, a mixed-use residential building in Seattle, WA, uses Pilkington Profilit™ filled with Lumira™ aerogel to further enhance energy performance and reduce sound transmission. | The Smithsonian Genetics Laboratory at the National Zoological Park in Washington, D.C., uses Pilkington Profilit™ filled with Lumira™ aerogel for increased energy efficiency. |



TGP is Getting Social,


Join the Conversation

Last year, we launched our YouTube channel "TGPfireglass" featuring product testing videos, topical videos and TGP TV spots. This year we are adding to our social community with some exciting new platforms for TGP.

Blog
The Fired Up blog can be found on the new fireglass.com website and is a chance to interact, discuss and gain new insight on trends, codes and design solutions.

Like us on Facebook
Check out our new Facebook page to get the latest project profiles, product updates and industry information through your Facebook news feed. Engage as much or as little as you like by leaving comments and participating in our surveys and contests.

Follow us on Twitter
We created our Twitter account (@TechGlassProd) to share timely information and enhance relationships with our customers and other stakeholders in real-time. Make comments, post projects or ask questions and get engaged with our network.

Request


for Photography

If you have a recent project that incorporated our products (such as Pilkington Pyrostop®, Fireframes®, FireLite® family of products, Pilkington Profilit™ or Neoparies®), we would like to see it. Simply e-mail snapshots and a brief description to photos@fireglass.com. Your work could be featured in a case study in Hot Topics or in a national publication.
---
Technical Glass Products
8107 Bracken Place SE
Snoqualmie, WA 98065
800-426-0279
Fax: 800-451-9857
Email: sales@fireglass.com
If you have received this newsletter in error, or to remove your name from future mailings, click here to unsubscribe.