View this newsletter as a web page.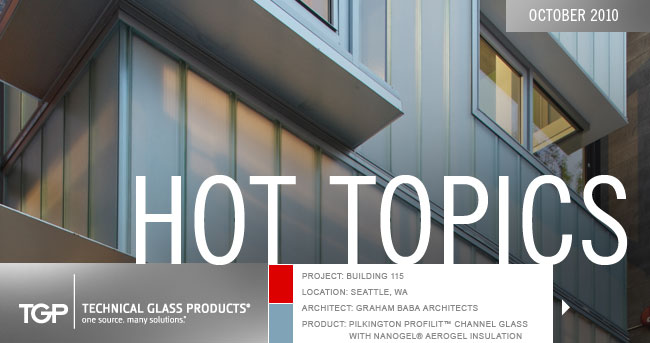 Introduction

TGP continues to look to the future with new products and technologies to meet the needs of a constantly changing market place. We've upgraded the long-trusted FireLite® family of fire-rated glass ceramic with ultraHD™ Technology to provide the best color and surface quality available. New product lines to come include low-iron options for Pilkington Profilit™ channel glass and a structural silicone glazed (SSG) SteelBuilt Curtainwall® system.

Read more about these stories and more in this edition of Hot Topics.


See how FireLite with ultraHD stacks up against the competition and enter to win an HDTV!

---

Attend a lunch presentation in your area on fire-rated glazing or daylighting design. Fire-rated course participants receive one AIA HSW Learning Unit Credit. Daylighting design participants receive one AIA HSW and Sustainable Design Learning Unit Credit.

The courses can also be completed online for AIA credit. Click:
ˇ Fire-rated glazing
ˇ Daylighting design


FireLite® with ultraHD™ Technology
Provides Superior Clarity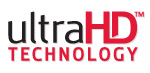 TGP is proud to introduce ultraHD Technology for the entire line of FireLite fire-rated glass ceramic. This new technology produces clearly superior surface quality, color and clarity compared to the competition. We think you'll agree when you view a large sized installation, real-life setting and natural lighting to highlight the benefits of this innovation. See for yourself at fireglass.com/hd.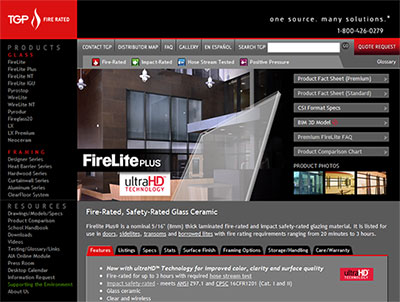 FireLite Plus®
Now Available
in Standard and Premium Grade Finishes
FireLite Plus now comes in two surface finishes, Premium Grade and Standard Grade. FireLite Plus is a laminated fire-rated and impact safety-rated glazing material that is listed and labeled by Underwriters Laboratories, Inc.® for up to three hours. FireLite Plus Standard Grade is comparable to alternative fire-rated ceramics that are marketed as having a "Premium" finish. FireLite Plus Premium Grade is polished on both sides to eliminate virtually all distortion.
As with all FireLite products, FireLite Plus now features ultraHD™ Technology for improved surface quality, clarity and color. For more information, visit fireglass.com/firelite-plus.


ICC Clarifies that Sprinklers
Cannot be Used in Testing
to Determine Fire-Resistance Ratings
of Glass and other Building Materials
In an important affirmation of the role of passive building compartmentation in life and property safety, the ICC has clarified that fire ratings for glazing and other materials must be established based on a material's own performance, without the aid of sprinklers or other fire suppression systems.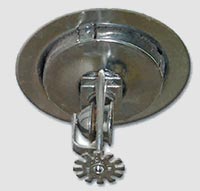 During final action code hearings in May 2010, the IBC Fire Safety Committee approved code change proposal FS4-09/10, which will add a new section to the 2012 IBC as follows:
703.4 Automatic sprinklers. The fire resistance rating of a building element, component or assembly shall be established without the use of automatic sprinklers or any other fire suppression system being incorporated as part of the assembly tested in accordance with the fire exposure, procedures, and acceptance criteria specified in ASTM E119 or UL 263.
The hearing documents note that the change was made in response to some material manufacturers submitting "test reports to Authorities Having Jurisdiction with fire-resistance ratings obtained using a flow of cooling water during the fire test." This is deemed unacceptable "since the need for a fire resistive assembly is usually required by the Code in order to provide an inherent passive level of fire protection."
The change proponent pointed out that the alternative protection provisions of Section 104.11 already allow for reducing some code requirements when a cooling water flow improves an assembly's performance. The new section was designed not to remove that possibility, but rather to "prevent a manufacturer of products from claiming an inflated fire resistance rating."
The 2012 IBC will be available for use starting in spring 2011.


Notable Projects Featuring

Steel Curtain Wall
Two SteelBuilt Curtainwall® installations, both with custom steel back mullion designs, will be completed this fall: Trumbull High School in Trumbull, Connecticut, and Fountaindale Library in Bolingbrook, Illinois.
Trumbull High School features SteelBuilt Curtainwall SSG in an approximately 4,000 square-foot custom façade with 30-foot vertical free spans in the auditorium and lobby. The architects' goal for this renovation was to turn the 1,100-seat auditorium into a full-fledged performance center suitable for use by the whole town. The curtain wall system's back mullion design incorporates vertical shaped components with standard SteelBuilt horizontal mullions.

Architectural rendering of Trumbull High School entrance

Installation as of September 2010
The Fountaindale Library incorporates the SteelBuilt Curtainwall Infinity™ System in an approximately 10,000 square-foot custom façade with 38-foot vertical free spans along the top of the building. The curtain wall glass is mottled to provide diffuse and slightly muted natural lighting throughout the building's interior. The system's back mullion design incorporates box sections with standard SteelBuilt horizontal mullions. Stay tuned for more detailed case studies of these installations in future editions of Hot Topics.

Architectural rendering of Fountaindale Library east elevation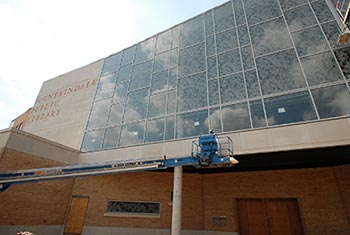 Installation as of August 2010


Coming Soon: New Pilkington Profilit™


Low-Iron Channel Glass System

TGP is developing an addition to the Pilkington Profilit channel glass line: Pilkington Profilit Low Iron. The cast glass channels will be made from a high clarity, crystal-clear, low-iron glass. With noticeably less color than typical float glass, Pilkington Profilit made from low-iron glass will be available in standard cast, and wave and macro textures.

Product details will be available at tgpamerica.com in the coming months.


Pilkington Profilit™


Adds Drama and Interest

Pilkington Profilit was recently installed in a dramatic back-lit waterwall at a bank in Charlotte, North Carolina. The exterior lobby is located in a public space adjacent to a hotel, and the architects wanted to add some drama and interest. The waterwall is 25 feet long and features a cascade of water in front of the channel glass wall.

A new ten-story parking garage in the Midwest designed for maximum energy efficiency and minimal waste also features Pilkington Profilit. Variably spaced glass channels held together in a custom frame make up the building's façade, eliminating the need for energy-intensive forced air-ventilation systems while bringing diffuse daylight into interior spaces. Other sustainable features in the garage include wind turbines, a green roof, bike rack and plug-in stations. The channel glass is anticipated to help contribute toward a LEED®-NC Silver Certification.

Other notable Pilkington Profilit installations include a cameo appearance in the upcoming 2010 re-make of a popular 80s science fiction movie, as well as a new back-lit feature wall at the LAX Tom Bradley International Terminal.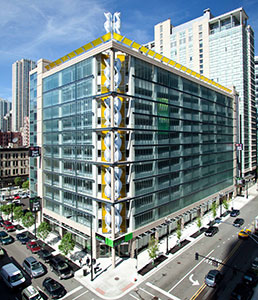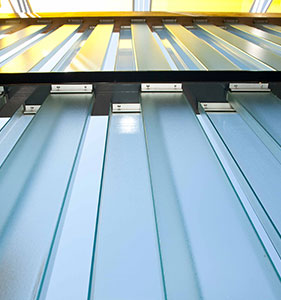 "Green" parking garage features Pilkington Profilit™ channel glass


Product to Watch:
SteelBuilt Curtainwall® SSG
To further expand curtain wall design options, TGP is introducing a new product to the SteelBuilt product family: SteelBuilt Curtainwall® SSG. This structural silicone glazed curtain wall system will feature no pressure plates or cover caps; instead, the glass is secured directly to the frame with silicone.  There are no mechanical joints or fasteners, for a crisp, clean look.  The new SteelBuilt Curtainwall SSG system offers the strength of a traditional steel curtain wall system with the aesthetics of an SSG system. Hybrid systems will also be available, combining horizontal pressure plates with vertical SSG systems.
Look for more details about this innovative new product on tgpamerica.com in the coming months.


Channel Glass Sets
Mixed-Use Building Apart
in Eclectic Seattle Neighborhood
In Seattle's Fremont neighborhood, a collage of vertically oriented, transparent channel glass strips run up the street façade of a new, three-story building. This unexpected and artistic structure is Building 115, a mixed-use residential building developed by Dave Boone, Dave Boone Construction, and designed by Graham Baba Architects of Seattle.
Constrained by zoning requirements, the building makes efficient use of its space by extending up rather than out. Concrete masonry units form the sides of the building, while the bay - a linear sequence of channel glass slots on the front - stretches into the sky. Strategically placed windows and cantilevered floor slabs add dimensionality to the glazed front, which thins as it extends upward to create the illusion of length.
The top portion of the bay conceals a deck and residential unit from the busy street. On the interior, diffuse daylight streams through the channel glass to illuminate the bottom two floors - a bicycle shop and workspace. At night, the bay transforms into a backlit façade.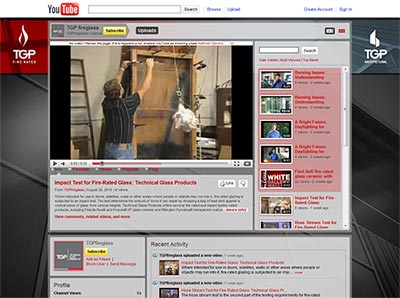 TGP Videos Now on

YouTube.com
Check out the new TGP-branded web page on YouTube.com located here: http://www.youtube.com/user/TGPfireglass.
Videos available on the site include fire-rated glazing test footage, educational videos on understanding fire-rated glass and framing as well as daylighting for buildings, and information on new FireLite® with ultraHD™ Technology.
Check back often as new videos become available!

Request


for Photography
If you have a recent project that incorporated our products (such as Pilkington Pyrostop®, Fireframes®, FireLite® family of products, Pilkington Profilit™ or Neoparies®), we would like to see it. Simply e-mail snapshots and a brief description to photos@fireglass.com. Your work could be featured in a case study in Hot Topics or in a national publication.
---
Technical Glass Products
8107 Bracken Place SE
Snoqualmie, WA 98065
1-800-426-0279
Fax: 1-800-451-9857
Email: sales@fireglass.com
If you have received this newsletter in error, or to remove your name from future mailings, click here to unsubscribe.