---
TGP Opens New Canadian Fabrication Facility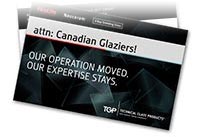 Building upon two decades of service to design and construction professionals in Canada, we have moved our Canadian operations into a new state-of-the-art fabrication facility in Toronto. The FireLite family of products, Neoceram™ heat resistant glass for high efficiency heating appliances and X-Ray shielding glass for the Canadian market will be fabricated and labeled at this site to help ensure short lead times.
---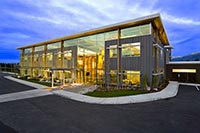 TGP Building Is Certified LEED® Gold
TGP is proud to announce that our new corporate office has just been awarded LEED®-CI Gold certification. To help achieve this rating, the design team used TGP's glazing and framing systems throughout the building to capture outside light and reduce energy use and lighting needs. Other green features include:
Diverting 96 percent of construction waste from landfills,
Reducing water consumption by 43 percent with low-flow water fixtures and using 100 percent reclaimed water for all irrigation, lowering impact on the local water table and potable water supply, and
Using low VOC materials to achieve ventilation rates 34 percent above standard.
---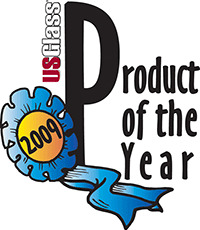 FireLite® Fire-Rated Ceramic Glass Named Product of the Year
In an annual poll, readers of USGlass Metal & Glazing magazine named FireLite as the fire-rated glass product of the year. The publication's December 2009 issue details why FireLite is a "Clear Choice for Fire-Rated Glazing," noting that as codes become more stringent, FireLite can help architects, specifiers and building owners find a cost-effective glazing solution for highly visible fire-rated locations.
Learn more about FireLite.
---
Fireframes® Aluminum Series Named Outstanding New Product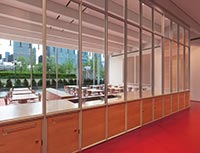 In 2009, TGP's Fireframes Aluminum Series was one of the products highlighted in Architectural Record's December Products Report issue. At the close of each year, the magazine features the year's most outstanding new products that design professionals should be sure to know more about. The piece discusses key features of the specialty fire-rated frames, including their narrow profile, crisp sightlines, and how they combine with Pilkington Pyrostop® glass to provide a barrier to radiant and conductive heat transfer.
For a real-world application of Fireframes Aluminum Series combined with Pilkington Pyrostop, see our case study on the Art Institute of Chicago's Modern Wing.
---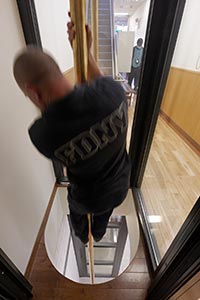 Pilkington Pyrostop® transparent wall panels protect firefighters from flames and smoke.
Image used with permission by Pilkington plc.
Case Study: Fire-Rated Glass Gives New York Firefighters a Hand at Engine Company 239, Brooklyn, New York
Providing Fire and Life Safety While Preserving Historic Beauty
The historic 7,000 square-foot Brooklyn Engine Company 239 fire station is part of the largest municipal fire department in the United States. Built in 1895, its decorative brick and sculptural limestone exterior has provided more than a century of shelter and service to New York firefighters.
Recognizing the need to modernize the station to meet the fire-fighting requirements of the twenty-first century, the Department of Design and Construction (DDC) hired Beyhan Karahan & Associates of SoHo New York to renovate the longstanding building while preserving its historic character.
Click NYFD Engine Company #239 to read how the architects solved the challenges of providing clear indoor sightlines while protecting firefighters from fire and falls.
---
New FireLite® Logo Brings a New Face to a Trusted Product
We're proud to introduce a new look for our FireLite logos. The FireLite logo has been updated for a more contemporary, modern look, but designed to maintain FireLite's visual brand recognition.
---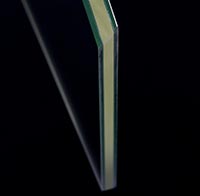 LX Premium Product Launch
For superb visual clarity in applications requiring protection from radiation, TGP is proud to introduce our newest X-Ray Shielding Lead Glass, LX Premium. The product has a multilayer structure created by inserting LX-57B high-lead glass between two panels of protective sheet glass. The result is a surface that will not stain or discolor even when touched by bare hands or wiped with a wet cloth. LX Premium is ideal for X-ray control booths or observation windows in medical facilities, power plants and airports.
Learn more about LX Premium.
---
New Colors and Textures for Pilkington Profilit™ Channel Glass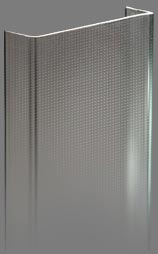 Pilkington Profilit™ Hurricane
in Micro Cast
Design professionals now have a wider range of options for daylighting and aesthetic designs with TGP's popular line of Pilkington Profilit channel glass. Pilkington Profilit wave features a well-defined ridge texture and is available with either a slight green hue or in Amethyst, which offers a blue coating. The wave texture creates color-changing effects and variability in light intensity, depending on the viewing angle. The result is a dramatic optical variation for building façades and interiors. Joints between the glass channels "disappear" when viewed laterally, yielding a homogeneous surface appearance. Pilkington Profilit wave is compatible with standard Pilkington Profilit channel glass systems.
Micro Cast is a new texture option for Pilkington Profilit Hurricane channel glass. The muted fine mesh texture with slight green cast provides privacy while allowing light to permeate the glass — all in a product designed to meet Miami-Dade County hurricane requirements.