---
TGP's New Blog on USGlass Web Site
Chuck Knickerbocker, TGP's curtainwall manager, was recently invited to become a regular blogger on USGNN's Web Site, The USGlass News Network, http://www.usgnn.com/. With more than 25 years in the glazing industry, his passionate viewpoints on regulatory issues, experience working with architects, and opinions on technical advancements in the glazing industry will bring new insights to design and building professionals.
Chuck's blog, "Field Notes", joins the ranks of regular industry commentators Megan Headley, USGlass editor, and Ellen Giard Rogers, Paul Bieber, Max Perilstein, Pete Chojnakci and Debra Levy.
Be sure to watch for Chuck's new blog this month at http://www.usgnn.com/.
---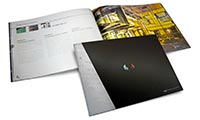 TGP's Architectural Look Book features full-page photos that can be torn out for project inspiration
New Look Book for Architects
TGP is proud to introduce our new Architectural Look Book. This piece was developed with architects and design professionals in mind to serve as a source of inspiration. It describes both our architectural and fire-rated glass and framing product lines and highlights exciting full-page product installation photography. The pages are perforated, allowing the pictures to be easily pulled out to help guide designs.
View an online version or order your new Architectural Look Book today!
---
Channel Glass for Curved and Serpentine Walls
The Pilkington Profilit™ channel glass system from TGP consists of self-supporting "U"-shaped cast-glass channels mounted in an extruded metal perimeter frame. The channels come in lengths up to 23 feet. Channel glass typically does not require intermediate mullions.
The framing system and narrow glass channels allow formation of straight walls, or dramatic curved and serpentine walls with tight radii (as low as 6' 6"). These properties enable designers to create large, uninterrupted areas of glazing for interiors or exteriors, which works especially well for capturing daylight.
Pilkington Profilit is available in a variety of colors and textures with varying translucency, allowing for the passage of natural light without the loss of privacy. It provides warm, diffuse light for interior spaces without glare.
For more information about design options with Pilkington Profilit, see our Architectural Specification Manual.
| | |
| --- | --- |
| The Oceanaire® Seafood Room in Houston features a Pilkington Profilit™ curved wall | A dramatic night view of The Oceanaire Seafood Room |
---

fireglass.com provides design professionals with the product resources they need
TGP's Fire-Rated Glass Web Site Receives Accolades
In USGlass Magazine's annual Web site contest, TGP's fire-rated glass Web site, fireglass.com, received honors as the Best Fire-Rated Glass Site. The fire-rated glass site meets the needs of design professionals through easy-to-understand icons, specs and detailed drawings, and BIM 3D models.
---

Pilkington Profilit™ Hurricane is the only tested and approved hurricane impact channel glass system in North America
TGP Adds New Pilkington Profilit™ Hurricane Product Resources
Pilkington Profilit™ Hurricane Web resources are now online. Resources include a product fact sheet, architectural specification manual, and three-part CSI specifications. Pilkington Profilit Hurricane is a translucent channel glass system that is impact-rated to withstand the ravages of high winds and fierce storms. The system is tested in Miami/Dade County and certified for Florida State Product approval. Visit the Web site, tgpamerica.com, or e-mail sales@fireglass.com for more information.